In the Main Menu, click Reports, Standard.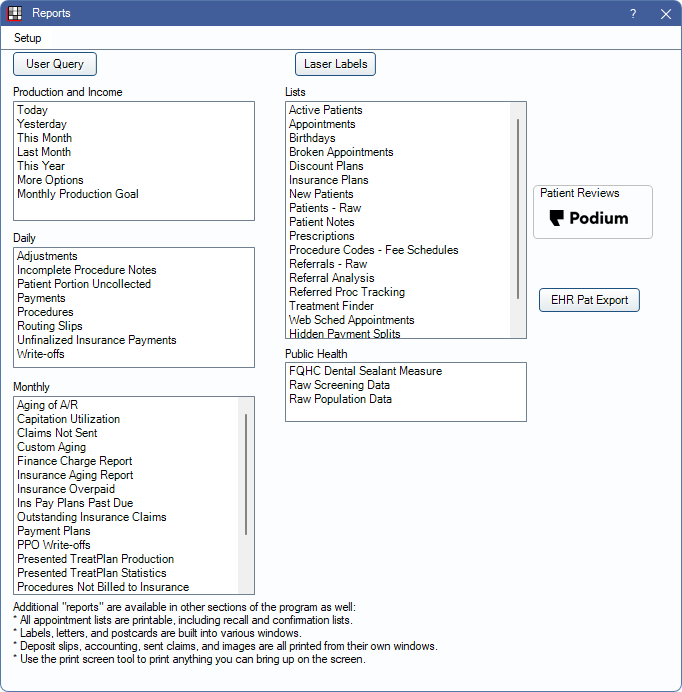 Standard reports allow you to track and view data using standard, text-based reports. They include production and income reports, daily and monthly reports, lists, and public health options.
Setup menu: Set up and customize defaults and user access for standard report. Options include:
User Query: Open the Query window to run custom reports. See User Query.
Laser Labels: This feature was added entirely by Kapricorn Systems, Inc. See Laser Labels.
Production and Income Reports
Daily: Common daily reports.
Monthly: Common monthly reports that are usually part of billing.
Lists: Common reports that pulls lists of various patient data.
Public Health Reports: Public Health reports.
Business analytics: Preferred business analytics service providers.
Patient Reviews: Podium is a preferred patient review service provider.
Troubleshooting
Locked shows next to the report and when I attempt to generate it, I receive a message that I do not have permission to run it.
You do not have access to locked reports. Access is controlled by user group in Report Setup.
When I click Standard Reports, I receive the following message: At least one insurance payment is not finalized. Reports will be inaccurate until all payments are finalized.
Prior to version 17.3, the Unfinalized Insurance Payments was not available under Standard Reports. One or more insurance payments were received but not finalized. To find these payments, follow the instructions below.
Run query 971 in Query Examples to identify the claims. Partial payments and unfinalized claims will list.
For partial payments, note the check date. Click Manage, Batch Ins. Make sure the date range on the Batch Insurance Payment window includes the check date. The partial payments will be indicated with an X in the Partial column. Double click the payment and either attach a payment or delete it.
For unfinalized claims, note the patient number. Select the patient, open the unfinalized claim or claims, and click Finalize Payment.
Also see Webinar: Payment Not Finalized.