Run the Insurance Plans Report to get a list of all subscribers currently associated to an insurance plan.
In Standard Reports, in the Lists section, click Insurance Plans.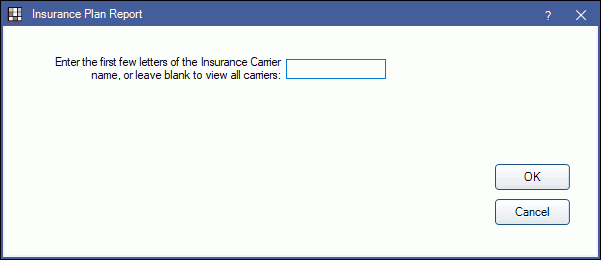 To control user access to this report, see Report Setup: Security Permissions.
Filter
The report can be filtered by insurance carrier.
To filter the report to a specific insurance carrier, enter it in the box. To include all carrier leave blank. Any carriers starting with matching text iwill be included in the report (e.g., if Delta is entered, Delta Dental of PA and Dental Dental of NJ will be included)
Click OK to generate a print preview of the report.
Report Preview
Below is an example of the report and explanation of the report columns.
For a description of toolbar buttons, see Complex Report System.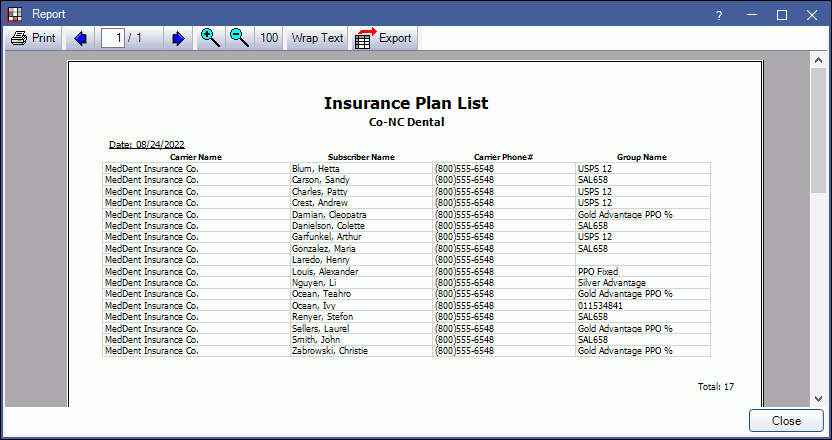 Only subscribers are listed in the report; individual patients under the same subscriber are not listed.
Carrier Name: Insurance Carrier associated to the insurance plan.
Subscriber Name: Last name and first name of the Insurance Plan subscriber.
Carrier Phone: Insurance carrier phone number.
Group Name: Group name of the associated insurance plan.
The results of the report are totaled on the final page to the bottom-right of the grid.