In the Main Menu, click Setup, Reports.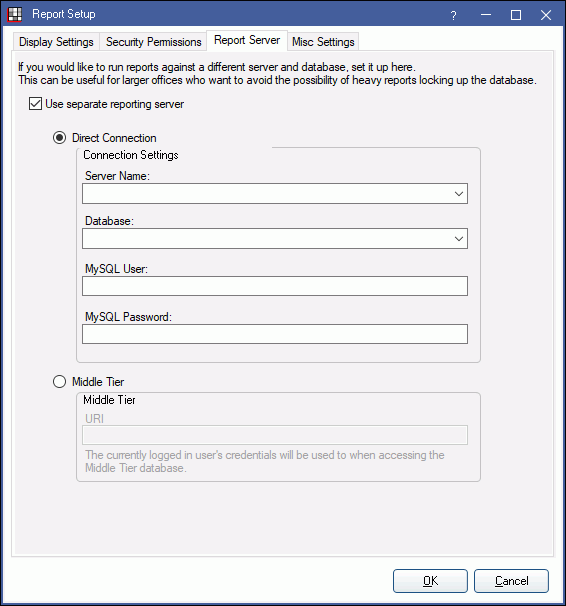 Alternatively, in the Standard Reports window, click Setup. Select the Report Server tab.
Note: The Report Server tab is not available for Open Dental Cloud users.
A report server can be useful to large offices to prevent lockups and slowness in a live database. Currently the report server can run the following Reports:
Production and Income
Daily Adjustments
Birthdays
Capitation Utilization
Finance Charge
Insurance Plans
Prescriptions
Receivables Breakdown
Referral Analysis
Daily Writeoffs
Graphic Reports
User Queries
Task Search
Audit Trail
The report server can also be used to run the Audit Trail.
Setting up the Report Server
There are two connection options:
Note: Always keep the report server database up-to-date so reports are run on current data.
Check Use separate reporting server to enable the connection settings.
Enter the connection credentials for the desired connection method (see below).
Click OK to save.
To set up the report server:
Direct Connection
Server Name: The name of the computer acting as the report server.
Database: The database to connect to.
MySQL User: Default user is root. See MySQL Security.
MySQL Password: The user password (if you have set up MySQL users and password).
Middle Tier, URI: If you do not know your URI, see Middle Tier Troubleshooting for help.
Note: When connecting via Middle Tier, the credentials of the logged on user are used to access the database.