This report analyzes the incoming referral count and production for a specific date range
In Standard Reports, in the Lists section, click Referral Analysis.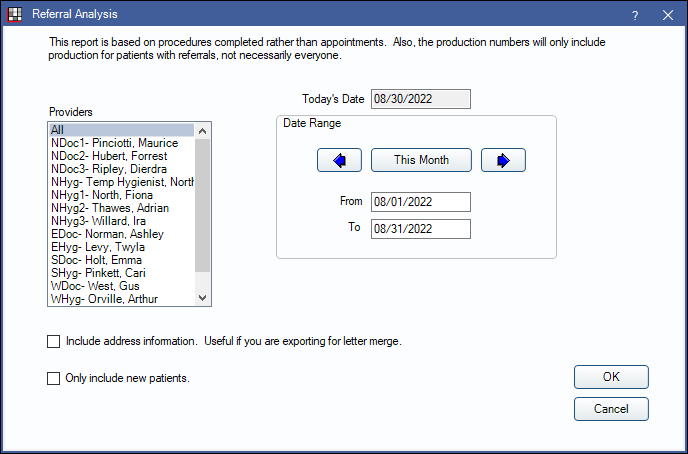 Note:
To control user access to this report, see Report Setup: Security Permissions.
Production numbers only include patients with incoming referrals.
Custom referrals are not included on report.
In the main menu, click Reports, Standard.
In the Lists section, click Referral Analysis.

Providers: Highlight the providers to include.
Date: By default a period of the current month based on today's date is selected.

Click the right/left arrow to move back/forward one month.
Click This Month to populate the text boxes with the current month.
Or click in each text box to enter custom dates.

Include address information: Check this box to include address information in the analysis. This is useful if exporting the results for letter merge.
Run as landscape: Only shows when Include address information is checked. This will print the report as landscape.
Only include new patients: Check this box to only include new patients in the analysis. This is based on the date of the first completed procedure.
Click OK to generate the analysis.

Below is a description of each column in the report.
Last Name: Last name of the referrer.
First Name: First name of the referrer.
Count: Number of patients referred by each referrer using the selected criteria.
Production: Total gross production from referred patients.
Note: If a patient was referred from more than once source, both sources will list with the full production amount.