In Standard Reports, in the Daily section, click Writeoffs.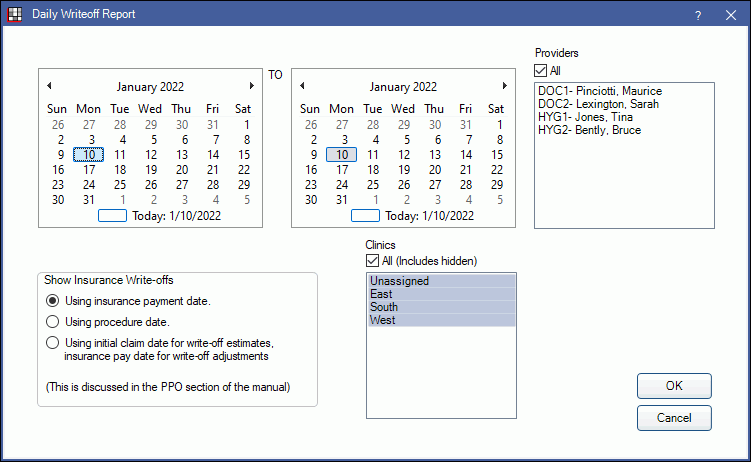 The Daily Writeoff Report lists write-offs by patient for a single date or date range. Write-offs are only tracked for insurance plans that use a PPO Percentage or PPO Fixed Benefit insurance plan type.
Report Options
Calendar: In the first calendar select the start date. In the second calendar select the end date. The date range defaults to today's date.
Providers: Highlight the Providers to include. Press Ctrl while clicking to select multiple providers or click All to select all providers. Provider selection is only an option if the logged-on user has the Daily - View All Providers permission.
Show Insurance Write-offs: Determines the date write-offs are applied. See Show Insurance Writeoffs for more details.
Using insurance payment date: Apply write-offs on the date the insurance claim is received (Receive Claim).
Using procedure date: Apply write-offs on the day the procedure is completed.
Using initial claim date for write-off estimates, insurance pay date for write-off adjustments: Apply write-off estimates on the claim date and changes to write-offs on the insurance payment date. Includes additional columns on the report. See below for details.
Clinics: Select one or multiple clinics to include in the report, or check All (Includes hidden) to run the report for all clinics. Unassigned refers to write-offs (claims) not assigned to a clinic.
Click OK to generate the report.
Report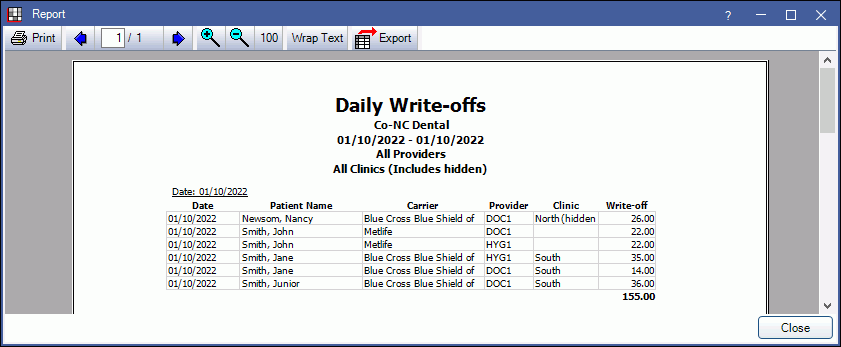 Carrier: Insurance carrier attached to the claim of the associated write-off.
Provider: Provider attached to the Claim Procedures ( claimprocs ).
Clinic: Clinic attached to the claim procedure.
Writeoff: Write-off amount
The following columns appear when Using initial claim date for write-off estimates, insurance pay date for write-off adjustments is selected:
Writeoff Estimate: Write-off estimate in the Claim Snapshot. Appears on the report on the initial claim date.
Writeoff Adjustment: Write-off adjustments from the insurance payment date (e.g., any change to the original write-off estimate)
Writeoff: Total of the Writeoff Estimate and Writeoff Adjustment columns.
Note: When running using
Using initial claim date for write-off estimates, insurance pay date for write-off adjustments
: