In Standard Reports, in the Public Health section, click FQHC Dental Sealant Measure.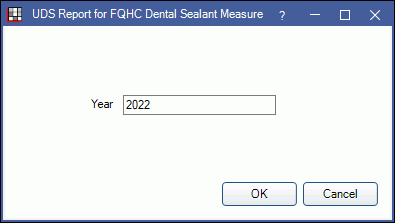 In Federally Qualified Health Centers ( FQHCs ), typically dental procedures are sent to the medical EHR, and thus the medical EHR should be used as the primary data source for UDS reporting to prevent duplication of patients. If you would like to request a UDS report for your dental patients, we can add reports using your specific use case for development. Contact us and escalate your call or email to our management team. Information about UDS reporting for Federally Qualified Health Centers can be found here: http://www.hrsa.gov
UDS FQHC sealant measure report We have one built in UDS report for the FQHC sealant measure (version 17.1). It replaces query 1092.
Total Denominator: Total number of patients in the report year who were 6 - 9 years of age, had at least one oral assessment or periodic oral evaluation (completed D0120, D0145, D0150, D0180, or D0191), and who are at moderate to high risk for caries (have a completed D0602 or D0603.)
Total Numerator: Total number of patients in denominator who have a permanent sealant on a first molar.
Total Percentage Met: The percentage of patients who have a permanent sealant on a first molar.
Note: Report results exclude children who have molars that are decayed, filled, currently sealed, or unerupted/missing (has a specific set of filling or sealant procedure codes.)
Enter the year to report on.
Click OK to generate the report.