The Patient Portion Uncollected Report shows the uncollected patient balance of procedures completed in a date range.
In Standard Reports, in the Daily section, click Patient Portion Uncollected.

From / To: Select the start and end dates to run the report for. Only procedures completed in the selected date range will appear on the report.
Clinics: If using Clinics, select the clinics to include in the report. Select All (includes hidden) to include all clinics.
Click Refresh to generate results.
Columns:
Date: The procedure completed date.
Patient Name: The patient with the completed procedure that has a remaining balance.
Procedure: The abbreviation of the completed procedure.
Fee: The procedure fee (multiplied by Base Units and Unit Quantity if entered).
Patient: The total amount the patient owes after the insurance payment and write-off.
Adjustment: The total amount of adjustments attached to the procedure.
Patient Paid: The total amount of patient payments attached to the procedure.
Uncollected: The remaining procedure balance after any partial patient payments, insurance payments, insurance write-offs, and adjustments.
Right-click a patient and select See Account to quickly view account information.
Print: Click to see a print preview of the report. From the print preview window, are options to print or export the report.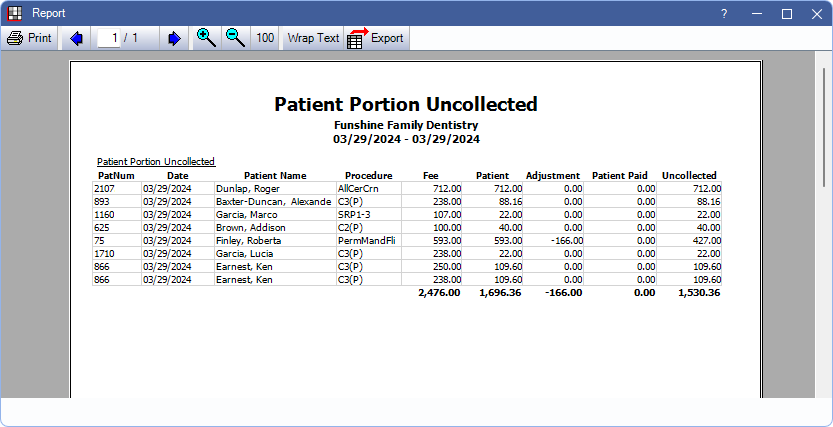 Questions and Answers
The uncollected amount for a procedure does not reflect the insurance estimate/payment and write-off. Why?
Procedures on sent and received claims reflect insurance estimates/payments and write-offs. Procedures on claims with any other status do not.
The account balance is at zero but the report is still showing an uncollected patient portion. Why?
Procedures must have payments specifically allocated to them or they will still show on the report.