Use the Treatment Finder report to quickly identify Active patients who have unscheduled treatment planned procedures and remaining insurance benefits.
In Standard Reports, in the Lists section, click Treatment Finder.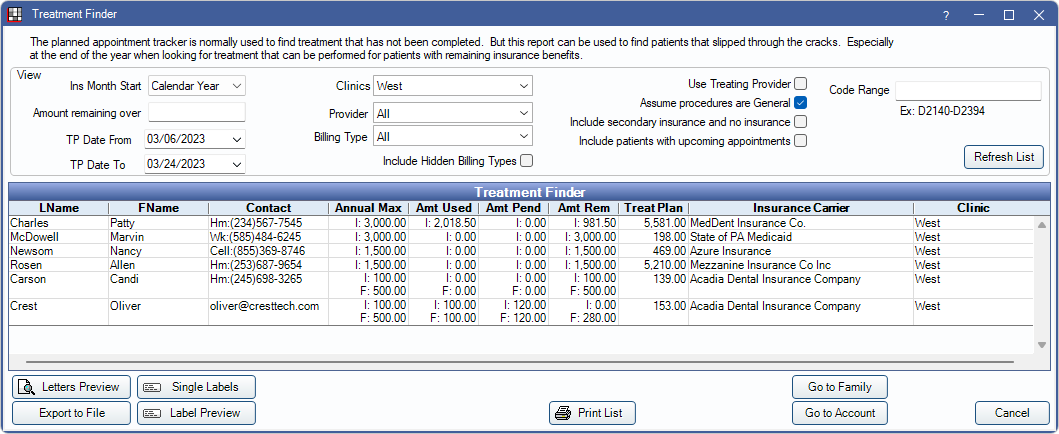 When first generated, the list includes patients who:
Note: By default, the report includes patients whose insurance benefits follow the calendar year (Benefit year = calendar year). It can also be used to identify patients whose insurance benefits start on a specific month (Benefit Year = Month). For these cases, we recommend running the report monthly and simply changing the report criteria. For Ins Month Start, select the starting benefit month to report on. For example, select November to find patients whose benefits expire on November 1st.

Click any column header to sort.
Change the report criteria then click Refresh List to update.
There are three options for viewing a patient:
Letters Preview: Highlight patients you wish to send a letter to. Select the patient letter template to use then click OK. A PDF preview of all letters will generate. Patient letter templates are defined in Sheets
Export to File: Export all results as a txt or xls file that can be merged or imported into another program. For all patients, Pat Num, Last Name, First Name, Contact Method, Address, City, State, Zip, Annual Max, Amount Used, Amount Pending, Amount Remaining and Treatment Plan total will be exported.
Single labels: Select a patient, then click Single Labels to send the label directly to the printer.
Label Preview: Click to generate a PDF preview of labels. Click Print to send to the printer.
Print List: Click to print the list. See example below:

Note: If using planned appointments, you can also use the
Planned Appointment Tracker
to track and schedule treatment planned procedures throughout the year.