In Standard Reports, in the Monthly area, click Custom Aging.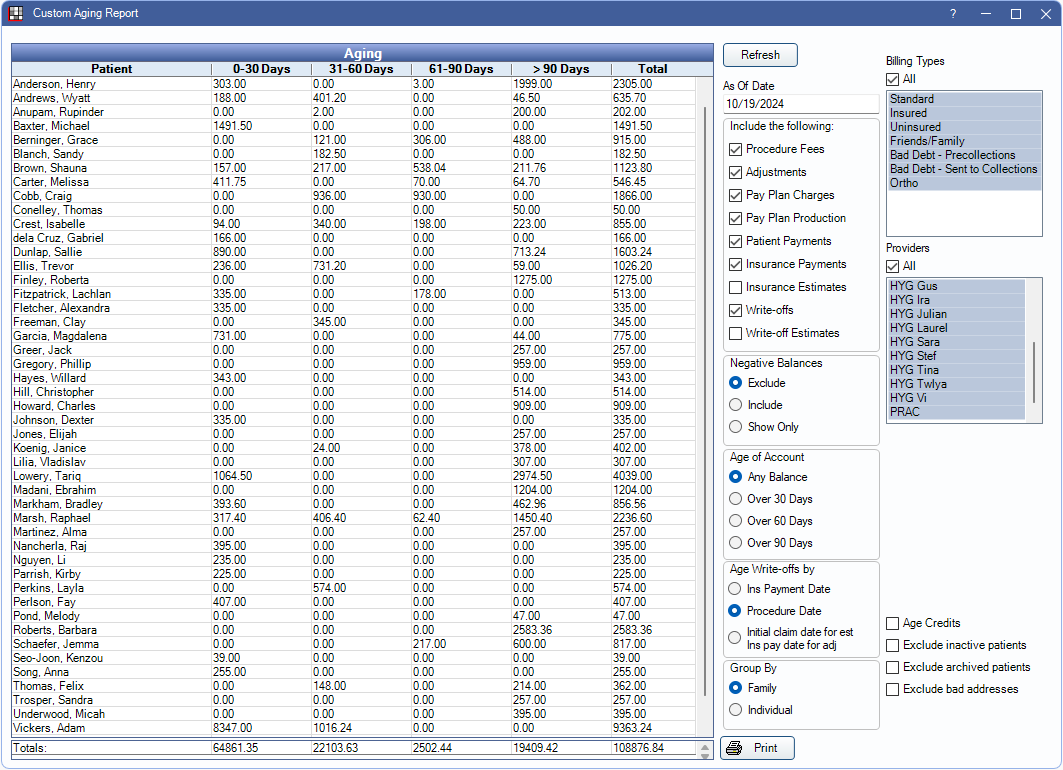 The Custom Aging report allows users to customize which transactions to age. The default criteria settings match the Aging of Accounts Receivable (A/R) Report. Aging can be run as of a historical date (see As Of Date).

Watch the Webinar: Aging of Accounts Receivable (A/R)
Select filter criteria and click Refresh to generate the report. Click a column heading to sort.
Click Print to print results as shown in the grid.
Customize the Report
As Of Date: Enter a date from which to begin calculating aging. Default is today.
Include the following: Check a criteria box to include it in the aging report.
Procedure Fees:Include procedure fees.
Adjustments: Include adjustments.
Pay Plan Charges: Include pay plan charges in the aged amounts.
Pay Plan Credits: Include pay plan credits in the aged amounts. See Payment Plan Procedures and Credits.
Patient Payments: Include patient payments.
Insurance Payments: Include insurance payments.
Insurance Estimates: Include insurance estimates.
Write-offs: Include write-offs. Must be checked to show Capitation write-offs.
Write-off Estimates: Include write-off estimates.
Negative Balances
Exclude: Check this box to exclude negative balances.
Include: Check this box to include negative balances.
Show Only: Check this box to only show negative balances.
Age of Account: Only show accounts aged over the selected value.
Age Write-offs by: Calculate write-offs by insurance payment date, procedure date or using the initial claim date for estimates and insurance pay date for adjustment. The default is determined by the Default to using Proc Date for PPO write-offs preferences in Reports Setup.
Group By: Show one patient or family (guarantor) per row.
Billing Types: Check All to include all billing types, or select individual billing types to include.
Providers: Check All to include all providers (including those marked as hidden), or select providers types to include.
Clinics: Check All (includes hidden) to include all clinics, or select specific clinics to include.
Age Credits: Age credits in increments of 0-30, 31-60, 61-90, and 90+ instead of aging credits using standard calculation (applying credits to oldest charges first).
Exclude Inactive Patients: Check to exclude all patients with an inactive status.
Exclude Archived Patients: Check to exclude all patients with an archived status.
Exclude Bad Addresses: Check to exclude patients with no zip code.