Use the Recall List to manually manage Recall by sending and tracking reminders. Your goal is to keep this list cleared. Recall is current when every single patient is off this list.
Hint: Use Web Sched Recall to automate recall reminders. This eService can automatically send recall reminders to patients via email and/or text messaging, based on recall due dates. Reminders include a clickable link that allows patients to schedule their own recall appointments online, thus reducing your daily workload.
Note:
Set default options in Setup Recall.
To text recall reminders using Web Sched Recall, you must sign up for Integrated Texting Feature.
Commlog entries will be made for each contact attempt. When multiple family members are sent a Web Sched Recall reminder, the message will be aggregated into one and a commlog will be generated for each patient.
Regular email and text messaging are not secure methods of sending PHI. See Encryption of Data at Rest and in Transit.
In the Appointments Module, click the Appointment Lists icon, then Recall.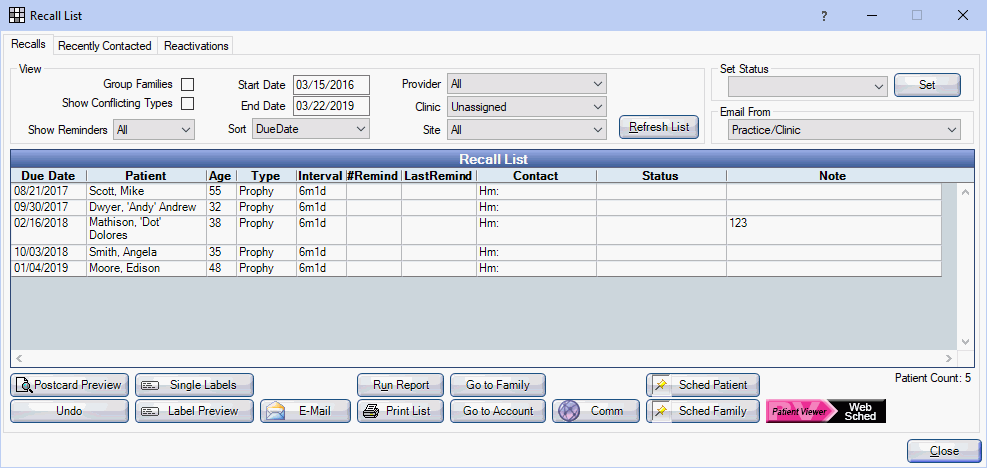 The window is divided into two tabs: Recalls and Recently Contacted.
Recalls: Identifies all patients who are due for a recall, but are not yet scheduled.
Recently Contacted: Lists patients who have been sent a recall reminder within a date range (postcards, emails, phone calls, Web Sched Recall, etc.) It can also be filtered by clinic.

Note: Some details will not be available for some reminders (Due Date, Recall Type, Recall Status) because the commlog does not record the recall the reminder was sent for.
You can browse to other windows while the recall list is open.
Recalls Tab
View: Change the view criteria, then click Refresh List to update results.
Recall List Grid: Customize which columns show in Display Fields, Recall List.
To edit a patient's recall, double click a row (see Edit Recall Window).
Right click, See Family: Select the patient and open the Family module.
Right click, See Account: Select the patient and open the Account module.
When one family member is highlighted, all other family members will highlight in red text.
Column definitions:
Contact: Details for the recall contact method. Typically this matches the patient's Preferred Recall Method (Edit Patient Information). The Use email if setting in Recall List Setup also can affect email. Mail = Mail, Hm = HmPhone, Wk = WkPhone, Cell = Wireless, Email address = Email, SeeNotes = See Notes, Text = Text.
Status: The recall status. Use this status to track communication about a patient's unscheduled recall appointment. Status options can be customized in Definitions: Recall / Unsched Status. The status will also show in the Recall area of the Family module.
WebSched: The progress of a reminder sent using the Web Sched button.

Blank: No Web Sched Recall reminder has been sent.
Sending: Sending is in progress.
Send Failed: The sending of Web Sched Recall reminder failed. Double click to view more error details.

#Remind: The number of reminders sent since the patient's last recall appointment.
LastRemind: The date the last reminder was sent.
Send Web Sched Recall Reminders
If you have signed up for Web Sched Recall, you can quickly email and/or text reminders from the Recall List. The reminder will include a link the patient can use to schedule their own appointment.
To set up Web Sched Recall reminders, see Web Sched Recall.
The eConnector must be running for text message reminders to send successfully.
Reminders are always sent to the patient's Authorized Representatives.
Select the patients to send a Web Sched Recall reminder, or select no patients to let Open Dental auto-select patients.
Click Web Sched. If you selected no patients, Open Dental will auto-select patients who have email or text message as their Preferred Recall Method (Edit Patient Information window).

A confirmation message will appear. Click OK to send the Web Sched Recall email and/or text message reminders to all selected patients. When multiple family members are sent a Web Sched Recall reminder, the message will be aggregated into one and a commlog will be generated for each patient.
Note: If patients have a wireless number and/or email entered, they will receive a message. Web Sched automation options do not affect manual send.
See Web Sched Recall: What Patient Sees.
Email Reminders
Reminders messages can be manually emailed from the Recall List.
Set the default email message text in Recall List Setup.
Patients must have an email address entered on the Edit Patient Information window. We also recommend setting the preferred recall method to Email.
If Group Families is selected, the guarantor email is used.
In the upper right corner of the Recall List window, select the from email. The default is Practice/Clinic.

If a single practice, Practice/Clinic refers to the default email set in Email Setup.
If using clinics, Practice/Clinic refers to the email address of the patient's clinic (Clinic List). If there is no clinic email, the practice default is used.

Select the patients to email, or select no patients to let Open Dental auto-select patients.
Click E-Mail. If you selected no patients, Open Dental will auto-select all patients who have email as their Contact method.
A confirmation message will appear. Click OK to send email reminders to all selected patients.
Manage Recall by Phone
When recall is managed primarily by phone, you will usually generate the recall list every day and call every patient who comes due. Here are some tips:
A phone number shows in the Contact column when the preferred recall method for a patient is None, HmPhone, WkPhone, or Wireless and a corresponding phone number has been entered.
Click Print List to print the patient information that currently shows in the Recall List.
To change recall status, select the appointment(s), click the Set Status dropdown, select a status, then click Set. This will also generate a recall Commlog with a note added about the contact attempt. Click OK to log this as a reminder and remove the patient from the recall list until the next reminder is due. To keep the patient in the list, change the commlog type.
Right click on a patient to quickly select him/her and open the Family or Account module.
Commlog entries should be made for every phone call so that you have a record of every attempt to contact the patient.
If a patient or family wants to schedule, select the patient, then click Sched Patient or Sched Family. The Appointments module will open with the recall appointment(s) on the pinboard. The calendar will not jump to the recall due date, so remember the appointment due date so you can locate it on the schedule. All procedures for the recall type are automatically attached.
Print Postcards
Define postcard layout and message options in Recall List Setup (number of cards per sheet, offsets, message text).
Hint: The Group Families checkbox is useful when printing postcards. If multiple family members are selected, they are grouped together on one postcard and the family message is used. If only one member of a family is selected, only that person is sent a postcard and the individual message is be used.
Select specific patients then click Postcard Preview OR Click Postcard Preview without selecting patients. Every patient with Mail or Hm as their Contact method will be selected and a preview of each postcard will generate.
Click Print to send postcards to the Default Printer for postcards.
A commlog is automatically created for each patient with a note of Recall Reminder. Mailed Postcard.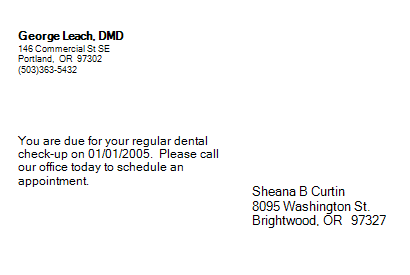 We have found FormSource to have good service and reliability. See their Open Dental Health Care Form Price List. See USPS for details about mailing postcards in the United States.
Print Labels
Address Labels can be printed for selected patient(s). Recall status will change to Mailed Postcard.
Single Label: Print a single label for each selected patient to the default printer for Labels - Single.
Label Preview: Generate and preview a standard sheet of 30 labels for selected patients. Click Print to print to the default printer for Labels - Sheet.
Remove a Patient from the Recall List
You have several options:
On the Edit Recall Window, manually disable a patient's recall.
On the Edit Patient Information window, set a patient's status to anything other than Patient.
To remove patients with no recall due date, set a start date for the recall list. Patients with no due date won't show.
Recall Reports
You can create a customized recall report and send the data to a simple text file. From there, you can merge it with any Word template to print your own customized postcards, letters, etc.
Click Run Report.

Highlight the fields to include in the report, then click OK.
On the User Query, click Export and save the file to another location.
Troubleshooting
Problem: When trying to send Web Sched Recall emails, receive a message that emails can't be sent because there are no available time slots.
Solution: Verify that all setup options for Web Sched Recall are complete and accurate. Does the provider's schedule extend far enough into the future? Are operatories correctly marked Is Web Sched?
Why a Patient Might Not Show on the Recall List
Patient already has a recall appointment scheduled.
Patient has already received a reminder. All commlog entries with a type of 'Recall' are considered reminders.
It has not been long enough since their last reminder.
The date range does not go back far enough. Leave the start date blank to include patients who have never had a prophy or perio exam.
The patient may be listed but not sorted as you expect. For example, when grouped by family patients are sorted by the last name of guarantor, with associated family members underneath.
Check that the correct recall types are set to show up in the recall list. See Recall List Setup.
Patient status must be 'Patient'.
The patient's recall has been disabled.
(rare issue) Patient has an appointment that was never marked complete so it is considered 'scheduled'. Check their progress notes or use this query to locate it:
Undo: This button is only available to users with "Security Admin" Permission. This option is useful when a user verifies that a recall batch printed even though it did not. It will delete all Commlog entries with type "recall" for a specific date, and re-list patients in the recall list.