General Email settings affect all emails sent and received using Open Dental.
Add email addresses that can be used by all staff members (e.g. clinic, practice, group email addresses).
Set the default email addresses outgoing email and secure web mail notifications.
Set the one computer that will download all emails.
Set the default interval (in minutes) for downloading all email.
Clinics: Add an email address for each clinic, then assign it in the Clinic List. You can have one outgoing email address per clinic.
To set up user-specific email addresses, see User Email Addresses.
To set up Secure WebMail, see Setting up the Patient Portal.
To read about encrypted email options, see Standard Encrypted Email vs Direct Messaging.
To access general email settings, in the Main Menu, click Setup, Manage, Email.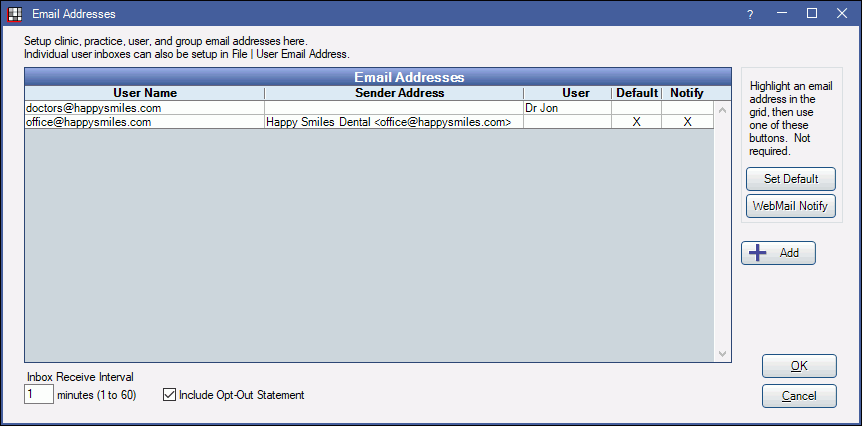 Add Email Addresses
Email addresses entered here can be used by all staff members. Set up general practice, clinic, or group email addresses.
Click Add to create a new address, or double click an address to edit.

Enter the email settings:

Username: The full email address.
Password: The password for this email account.
Use SSL: Check the box to enable SSL. Uncheck it to disable SSL. Implicit SSL ports (e.g. 465) cannot send encrypted email.
Outgoing SMTP Server / Outing Port: Settings used to send email. SMTP servers typically require authentication.
Email address of sender: This email address is an alias, but not all email providers will recognize it. It will appear in the From address instead of the username (full email address), though the username credentials will still be used. When sending encrypted email, this field is ignored.
Alias format: If Sparkly Dental <bob@gmail.com> the recipient will see Sparkly Dental as the sender instead of bob@gmail.com.
Incoming POP3 Server and Port: Settings used to receive email.

Click OK to save.
For troubleshooting help, see
Email Settings and Errors
. For information about public certificate hosting for Direct messaging, see
Public Email Certificate Hosting
(used by EHR providers to exchange patient health information with other EHR providers).
Default Emails
Default Email: This email will be the default From email for outgoing emails (if a user-specific email is not entered). Highlight the email address, then click Set Default. An X will show in the Default column.
Web Mail Notifications: This email will be used to send Secure WebMail notifications to patients. Highlight the email, then click WebMailNotify. An X will show in the Notify column.
Email Download Settings
Computer Name to Receive New Email from: This computer will be the only computer that can download new incoming emails to the Inbox (both practice/clinic/group emails and user-specific emails). Only one computer can be set per database. All other computers will only show emails already downloaded.
Enter the IP address or computer/server name or click This Computer to use the computer you are currently on. If you enter a server name and leave Open Dental open on the server, the computer will automatically check the server for new emails according the interval.
Inbox Receive Interval: Set the time, in minutes, to automatically check for and download new emails. Five minutes is the default.
Alternate Setup Scenarios
Submitted by users on the forum: http://opendentalsoft.com/forum/viewtopic.php?f=1&t=3768
Email forwarding if your domain hosting company doesn't support SMTP:
In this example, the domain hosting company is Godaddy. Godaddy points to hosting site for http, ftp, etc. Godaddy points to Gmail for email, but it doesn't have to.
Use the Godaddy interface to forward (dentist@mysite.com --> myname@gmail.com)
Or use (*@mysite.com --> myname@gmail.com) as a catchall so that anything sent to @mysite.com will get sent to that Gmail account.
Set up Open Dental to use Gmail. Change the Gmail setting under the Reply To: field to use your company's email.
Email forwarding from Gmail:
Create a new Gmail account, and use the new email account to set up Open Dental with Gmail.
Click the Settings dropdown in Gmail. Click Accounts and Import, then see the Send mail as: section.
Add Reply-To Address for Gmail account (e.g.abc@mydentaloffice.com).
Click Add another email address you own to add your domain related email address (e.g.abc@mydentaloffice.com).
Enter Name and Email address (abc@mydentaloffice.com).
Make this new email address your default address. This will ensure that Gmail will use abc@mydentaloffice.com.
Problems with forwarding:
Gmail can lock your account periodically because they detect suspicious activity.
Patients' email software can interpret email forwarding as spam and send it to their junk folder.
Even if you turn on SSL for sending your email, the email is still not considered secure. The only way to email securely is to use encrypted email.