In the Account Module, in the toolbar, click Adjustment.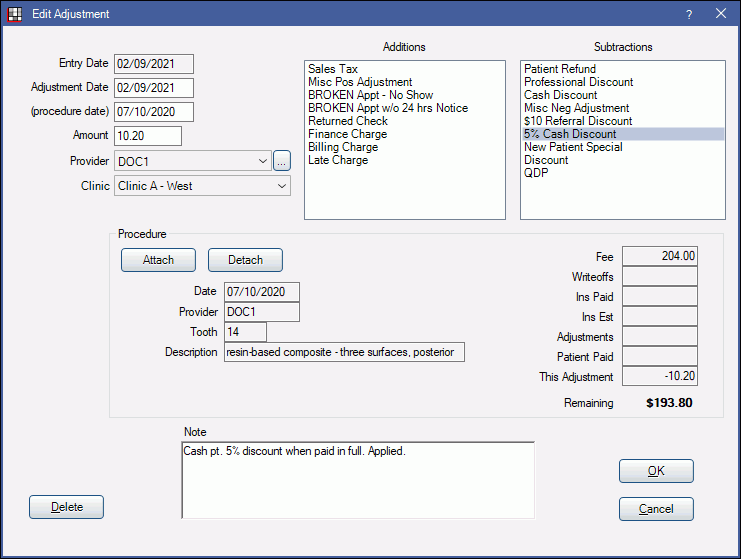 Alternatively:
In the Account Module, double-click a Procedure, and click +Add New Adj.
In a Claim, right click a procedure, and click Add Adjustment. Allow procedure adjustments from claim window must be enabled in Account Module Preferences.
Adjustments are used to create additional charges or reduce charges on a patient account. They are always attached to a single patient, provider, and clinic, and can be optionally attached to a procedure.
Adjustments are also used by the Billing/Finance Charges, Broken Appointments Automation, Discount Plans, and Sales Tax tool.
By default, Open Dental assigns adjustments to the patient's clinic and primary provider. If a procedure is attached to an adjustment, or the adjustment is added through the Procedure, the adjustment is assigned to the procedure's clinic and provider. To change the default clinic and provider assignment see the Account Module Preferences, Enforce Valid Adjustments.
Entry Date: The date the adjustment entry was created. It cannot be changed.
Adjustment Date: Typically the same as the entry date. Modifying this date could potentially change historical data.
(procedure date): The date of the procedure attached to this adjustment.
Amount: The amount of the adjustment.
Provider: Defaults to the patient's primary provider. Click the dropdown or [...] to select a different provider (only providers restricted to the users clinic will show) or attach a procedure to inherit the procedure's provider.
Clinic: Defaults to the patient's assigned clinic. Click the drop down or [...] to select a different clinic (only clinics restricted to the user will show) or attach a procedure to inherit the procedure's clinic.
Additions: List of adjustment types that add the adjustment amount to the patient's account balance.
Subtractions: List of adjustment types that subtract the adjustment amount from the patient's account balance (issues a credit).
Procedure: Attach or detach a procedure. Click Attach to view a list of completed procedures or detach to remove an association to a procedure.
Edit Anyway: Allows user to change the provider and clinic. Button is only visible if Enforce Valid Adjustments, Enforce Fully Account Module preference is enabled and the user has the Setup security permission.
Note: Enter any notes about the adjustment. To show these notes on statements, see Manage Module Preferences.
Delete: Remove the adjustment from the patient's account.
OK: Save changes made to this window. If the adjustment is attached to a procedure and the amount exceeds the procedure's remaining balance, clicking OK will prompt the user with an Overpaid Procedure Warning.
To determine behavior and logic of adjustments, review other preferences in Account Module Preferences and Appointments Module Preferences. To customize adjustment types, see Definitions: Adj Types. Use the Daily Adjustments Report to report on custom types.
Add Multiple Adjustments
To create multiple adjustments attached to multiple procedures at once, use Add Multiple Adjustments.