When you right click on some text boxes, an additional menu appears. These text boxes support Insert Quick Paste Notes and Spell Check useful for notes.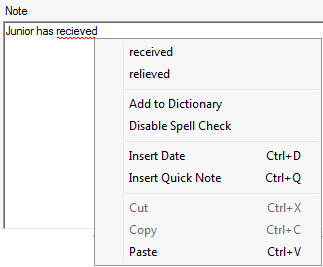 Below is a list of textboxes with right click options and their type.
Inserting Dates
There are several ways to quickly insert today's date in a right click text box.
In the text box, press CTRL + D.
Right click in the text box, then click Insert Date.
Click Date at the bottom of the quick paste notes window.