Employees can use the time clock to clock in and out of work.
Before using the time clock, the following tasks must be completed.
Add employees. See Employee List.
Create user profiles for each employee. See User Security Profiles.
Add pay periods in Setting up Time Cards.
See also: Webinar: Time Cards.
The Time Clock is at the upper right of the Manage Module.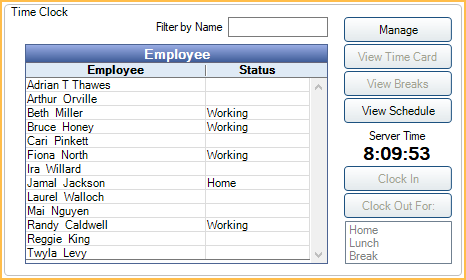 By default, the time displayed is the time of the server (the computer running the MySQL program). To use a workstation's local time instead, see Miscellaneous Setup.
Clock in: Click an employee, then Clock In.
Clock out: Click an employee, select a status (Home, Lunch, Break), then click Clock Out For.
Home: Use this status when leaving for the day. The clock out time will be recorded on the time card.
Lunch: Use this status when clocking out for an unpaid break. The clock out time will be recorded on the time card.
Break: Use this status when clocking out for a paid break. Open Dental will track the length of the break in the time card. Whether or not break time that exceeds 30 minutes is calculated as paid or unpaid is determined by the setting in Time Card Setup for Calc Daily button makes adjustments if breaks over 30 minutes.
If an employee edits a time card so the clock out event happens in the future, the status will show as Manual Entry.
A clock event row will be created in the time card each time you clock in. If a pay period doesn't exist, attempts to clock in trigger an alert.
When using clinics, the clinic selected in the main menu determines which employees are listed. When clocking in, this clinic is associated to the clock in event and subsequent clock out events.
Other options:
Manage: Calculate pay period totals and perform other time card management tasks. See Managing Time Cards.
View Timecard: View or make corrections to the selected employee's time card.
View Breaks: View or make corrections to breaks for the selected employee.
View Schedule: Quickly view the selected employee(s) schedule. Viewing Employee Schedules.
To create rules for overtime or differential hours, see Setting up Time Cards.
Troubleshooting
Providers using time clock:
In version 16.1 and greater, a user can be associated to both an employee and provider.
In version 15.4 and earlier, a user can only be associated with an employee or a provider. This means to use the time clock, providers (dentists and hygienists) must have two user profiles: one associated with a provider (to track appointments procedures, production and income), and one associated with an employee (to track time clock events).
Problem: Employee doesn't list in the time clock.
Solution: Make sure the employee is added to the Employee List and not marked hidden.
Problem: Clock events are not displaying on time cards.
Solution: In Time Card Setup, check that a pay period is set up for the current date. Clock events only show if a pay period exists for today.
Problem: Employee is listed, but can't clock in.
Solution: Associate the employee to a user in Security.