The Manage Module contains miscellaneous management functions that don't apply to any single patient.
Also see Webinars.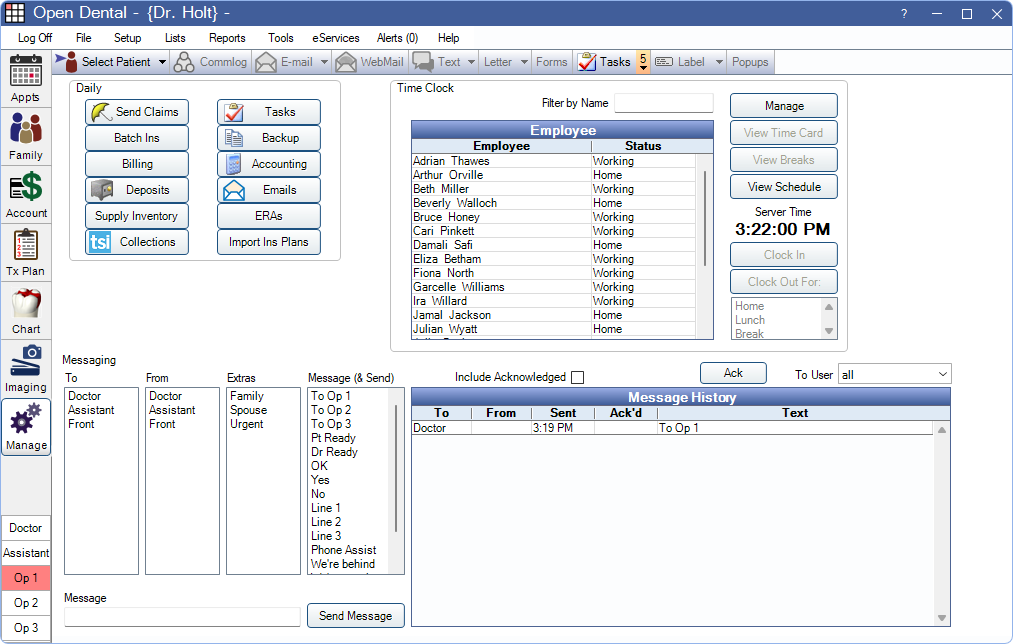 Daily Area
Send Claims: Send, print, and manage insurance claims. See Managing Insurance Claims.
Batch Ins: Enter batch insurance payments. See Batch Insurance Payments.
Billing: Print or email batch statements and set billing defaults. See Batch Billing.
Deposits: Create Deposits and Deposit Slips.
Supply Inventory: Track suppliers, supplies, orders, and equipment. See Supply Inventory.
TSI Collections: See Transworld Systems.
Tasks: Set up task lists and create tasks for office communication, reminders, appointment lists, patient lists, etc. See Task Lists and Tasks.
Backup: Use Open Dental's manual Backup and Archive Tool.
Accounting: Set up a chart of accounts and track expenses, income, assets, liabilities and equity. See Accounting.
Email Inbox: Launch the Email Inbox.
ERAs: Process Electronic EOBs (ERA 835s).
Import Ins Plans: Only visible when Public Health is turned on. This is a very specific function for importing 834 files. Importing Benefit Enrollment and Maintenance Files (834 files).
Time Clock
Employees can use the Time Clock to clock in/out of work.
Manage: Manage employee time cards, calculate daily/weekly totals, and run reports. See Managing Time Cards.
View Time Card: Employees can view or edit their time card. See Editing Time Cards.
View Breaks: Employees can view or edit their breaks. See Editing Time Cards.
View Schedule: Quickly view the schedule for selected employees. See Viewing Employee Schedules.
Messaging
Send internal text, light and sound messages to all workstations in the office. See Internal Messaging.