The Manage Module contains miscellaneous management functions that don't apply to any single patient.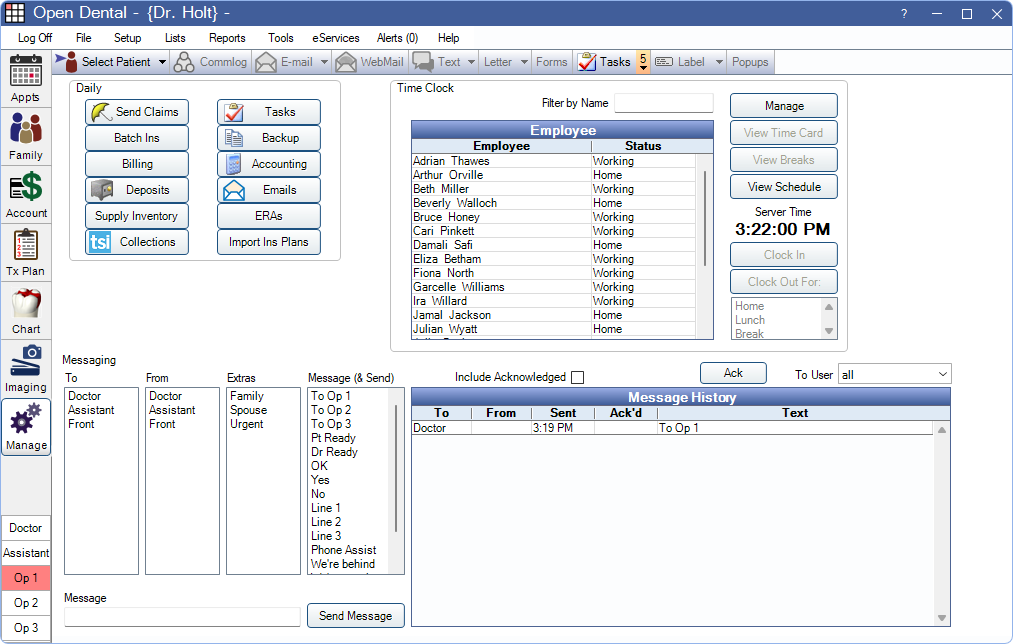 Also see Webinars.
Daily Area
Send Claims: Send, print, and manage insurance claims. See Send Claims.
Batch Ins: Enter batch insurance payments. See Batch Insurance Payment.
Billing: Print or email batch statements and set billing defaults. See Billing.
Deposits: Create Deposit Slip.
Supply Inventory: Track suppliers, supplies, orders, and equipment. See Supply Inventory.
TSI Collections: See TSI Collections.
Tasks: Set up task lists and create tasks for office communication, reminders, appointment lists, patient lists, etc. See Tasks Area.
Backup: Use Open Dental's manual Backup Tool.
Accounting: Set up a chart of accounts and track expenses, income, assets, liabilities and equity. See Accounting.
Email Inbox: Launch the Email Inbox.
ERAs: Process ERAs.
Import Ins Plans: Only visible when Public Health is turned on. This is a very specific function for importing 834 files. Import Ins Plan 834.
Time Clock
Employees can use the Time Clock to clock in/out of work.
Manage: Manage employee time cards, calculate daily/weekly totals, and run reports. See Manage Time Cards.
View Time Card: Employees can view or edit their time card. See TimeCard.
View Breaks: Employees can view or edit their breaks. See Editing Time Cards.
View Schedule: Quickly view the schedule for selected employees. See Schedule View Employee.
Server Time: The server time is used to time stamp all events in your database (commlogs, audit trail, tasks, etc). This time is pulled from the server hosting your Open Dental database. If the time is changed on your server, a restart to the mySQL service may be required.
Messaging
Send internal text, light and sound messages to all workstations in the office. See Messaging.