eServices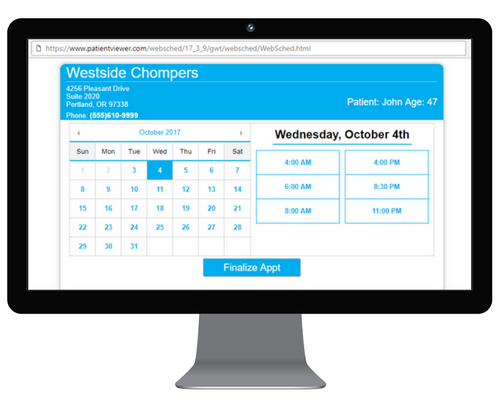 eServices are internet-based features available through Open Dental that can provide enhanced access for patients and providers, and automate many tasks. The result is increased productivity and efficiency and a better patient experience, which translates into improved patient retention and practice growth.
eService Fees: See Fees for Software, Support, and Services.
Each location must be on support and have a unique registration key. Only customers on support will be able to sign-up for any eService. Integrated Texting and eRx can still be utilized even if the office cancels support; in these cases, we will only provide support limited to the eService(s) still in use.
Other Details:
eServices require installation of the eConnector, the gateway of communication between your computer and our secure servers. To quickly install the eConnector, see eConnector Installation.
For a list of supported browsers, see Computer Requirements.
Distributors who would like to resell Open Dental eServices: See Distributors.

Bundle eServices and get all eServices for one low, discounted monthly fee per location!
Service
Description
Learn More
eServices Bundle
Includes all of the eServices listed below at a discounted price.
eServices Bundle
eReminders
Send automated text message and/or email reminders about upcoming appointments.
eConfirmations
Send automated text message and/or email confirmations to remind patients about an upcoming appointment AND allow the patient to e-confirm.
eConfirmations

Integrated Texting
Send SMS text messages directly to patient's mobile devices and receive unlimited inbound text messages from patients. Works with eReminders, eConfirmations, and Web Sched.
Integrated Texting

Mobile Web
Connect to the Open Dental any time, anywhere using a supported internet browser and your mobile device.
Mobile Web

Patient Portal
Give patients instant access to their health information. Use secure WebMail to exchange private messages with patients. Also allow online patient payments using X-Charge.
Patient Portal

Web Forms
Allow patients to complete forms online using any browser.
Web Forms

Web Sched Recall
Allow current patients to schedule their recall appointment online.
Web Sched Recall
Web Sched New Patient
Allow new patients to schedule their first appointment online.
Web Sched New Pat
Web Sched ASAP
Allow current patients to schedule ASAP appointments online.
Web Sched ASAP
eClipboard

Allow current patients to check in, sign and complete forms, and take a patient picture all from a mobile device.

The app is coming soon to the iOS and Android app stores for supported devices. Check back soon for availability.




Functionality is limited for this feature in version 19.1. Interested users may Contact Us for details.

eClipboard