In the Main Menu, click Setup, Advanced Setup, Scheduled Processes.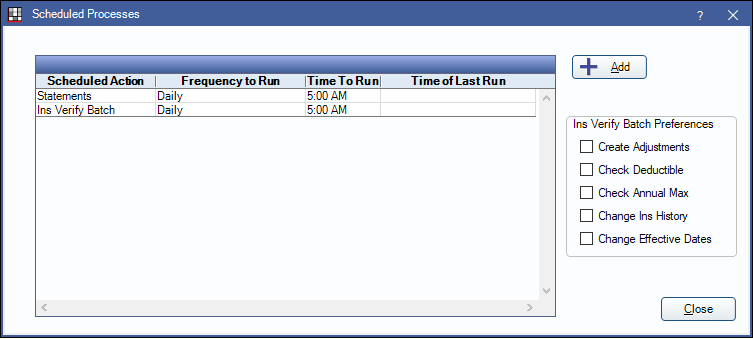 Scheduled Processes allow certain updates to be performed regularly, at a designated time. Typically these should be scheduled for after hours to avoid disruption of normal program function as these tasks can be server intensive.
The main grid displays any currently existing scheduled processes. Double-click to edit.
Add: Click to create a new scheduled action.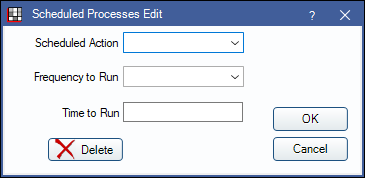 Scheduled Action: Select Process to run from the dropdown.
Frequency to Run: Select how frequently this process will run.
Time to Run: Enter a time of day when this process will run. Entries will be validated based on local language/cultural settings in Windows. For English-US users, acceptable time formats for entry include: 9:00 PM, 9:00 pm, 21:00.
Delete: Click to remove this scheduled process.
Logic
Ins Batch Verify
When verifying insurance, Open Dental will use the 271 file from the carrier. Patients whose insurance information matches the 271 will be removed from the Insurance Verification list. Patients who do not match the 271 will remain on the list and their status will be updated.
When compared to the 271, Open Dental considers the following:
Group Number.

Leading zeros are not considered (e.g. 123 will match with 00123)

Annual Max
Deductibles
Populates the effective date if available.
Creates Adjustments to Insurance Benefits if available.
Validates policy effective dates.
Creates or updates Insurance History.