Users who meet Mobile Web Feature security requirements can access the Mobile Web using any supported internet browser.
Sign In
In a supported internet browser:
Go to the Mobile Web Hosted URL. To find the URL, see Mobile Web.
Enter your Open Dental user name and password.
Press Sign In.

Hint: Check the Remember User Name checkbox to remember the user name the next time you log on.
After five failed logon attempts in a row, a user will temporarily be locked out of the account for five minutes or until a user with Security Admin privileges manually unlocks the account (See User Security).
Note: To log on, a user have the Mobile Web security permission and a strong password.
Home Screen
The Home screen is the central location for accessing Mobile Web information.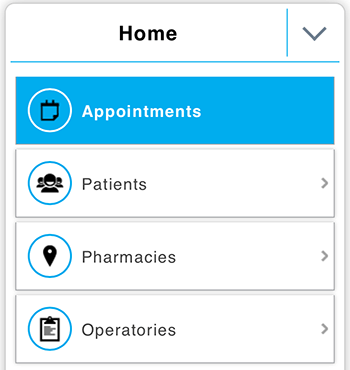 Patient and appointment information is filtered by clinic. If the logged-on user has access to multiple clinics that use Mobile Web, the default clinic upon logon will be the clinic active the last time the user logged on or closed Open Dental. To change clinics, click the down arrow in the upper right, then Clinics.
Press an option to access.
In the upper right corner, press the down arrow to open an additional menu.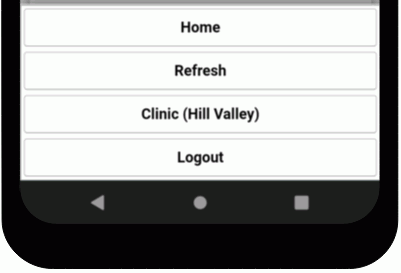 Home: Return to the home screen.
Refresh: Update content.
Clinic ():Change clinics. Only an option when the user has access to multiple Clinics that use the Mobile Web.
Logout: Sign out of the mobile web.
On subsequent windows, press < in the top left corner to go back one screen.