Note: Mobile Web has been replaced by
ODMobile
, an app that is installed right to your mobile device! New features will not be added to Mobile Web, however it can still be used.
In Mobile Web Home, press Appointments.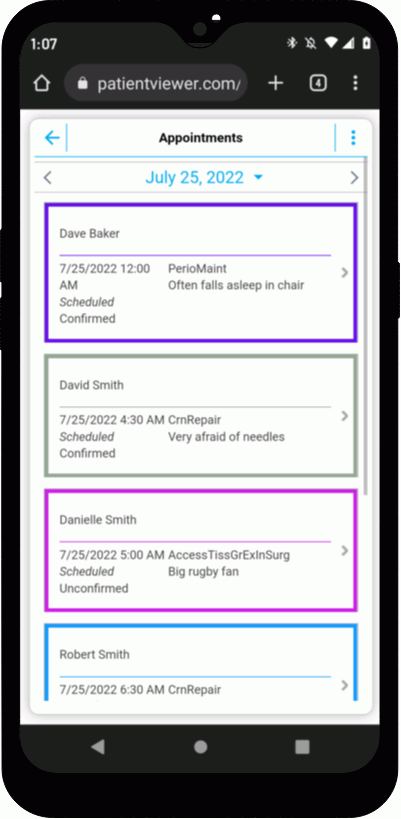 The Appointments view will show scheduled appointments by day.
Appointment color is based on the treating provider, Appointment Types, or LateColor (Appointment View Edit). The note that displays is from the Appointment Note. See Edit Appointment.
Press an appointment to view more details.
Press the arrows to the left/right of the date to move back (<) or forward (>) one day. Click the down arrow to select a date from a calendar or additionally filter by provider.
Appointment Details
Press i to view Patient Details. Mobile Web Patients
Press the Phone icon to call the patient.
If complete information is not visible (...), press the information to view it in its entirety.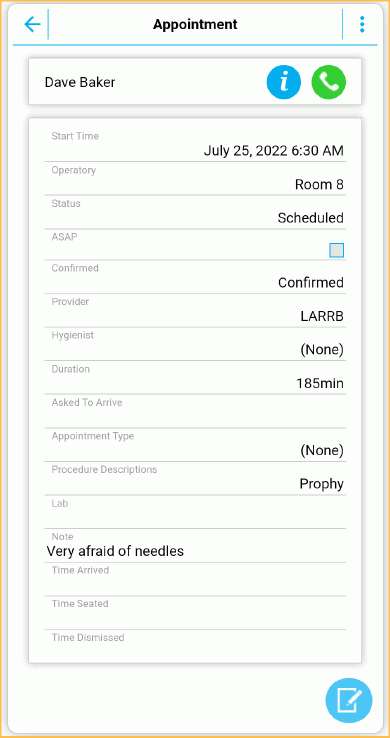 Calendar / Provider Options
Press on a date to select. Press Today to select the current date.
To filter by provider, press All Providers, then select the provider.
Press OK to close the calendar and apply the filter criteria.