In the Main Menu, click Setup, Practice.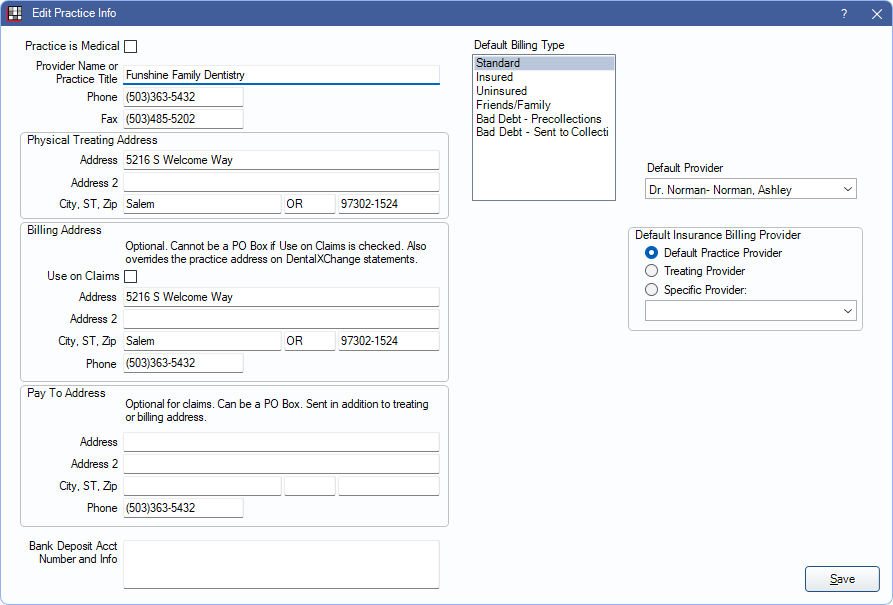 Practice information includes general contact information, billing and pay-to addresses, and default providers.
Note: Practices that have multiple locations should use the
Clinics
feature and assign each patient to the appropriate clinic.
Enter practice details:
Practice is Medical: Enable the non-dental interface. See Non-Dental.
Provider Name/Practice Title: If there is only one provider, the practice title can be the name of the provider. For the logic that determines which address is used in printed and electronic claims, see Claim Addresses.
Physical Treating Address: The physical location where treatment is performed. This address is always used on statements.
Billing Address: Only needed if different than Physical Treating Address. Must be a physical address (not a PO Box). Check Use on Claims to use in both printed claims and e-claims. For electronic billing statements sent to DentalXChange, it will override the practice address.
Pay To Address: Only needed if different than Physical Treating Address The address where the insurance payment will go. It can be a PO Box. Sent with the billing address in 5010 e-claims and, if entered, will override the billing address on printed claims.
Bank Deposit Acct Number and Info: The bank account that deposits will be made to. This account number will be used on daily Deposit Slip.
Default Provider: The default provider to assign to new patients. Also used to determine the standard fee schedule.
Default Billing Type: The default billing type for this practice. Customize options in Definitions: Billing Types.
Default Proc Place Service: The default place of service assigned to new procedures (Procedures- Misc Tab) and when completing procedures. This option is only visible if Public Health is turned on.
Default Insurance Billing Provider: The default billing provider on claims. This does not affect treating provider.
Default Practice Provider: The default provider selected above.
Treating Provider: The treating provider. See Claim, Treating Provider for logic that determines who the treating dentist is.
Specific Provider: Select a specific provider from the dropdown menu.
Note: If using clinics, clinic addresses may override practice addresses on claims.