In the Main Menu, click eServices, Signup.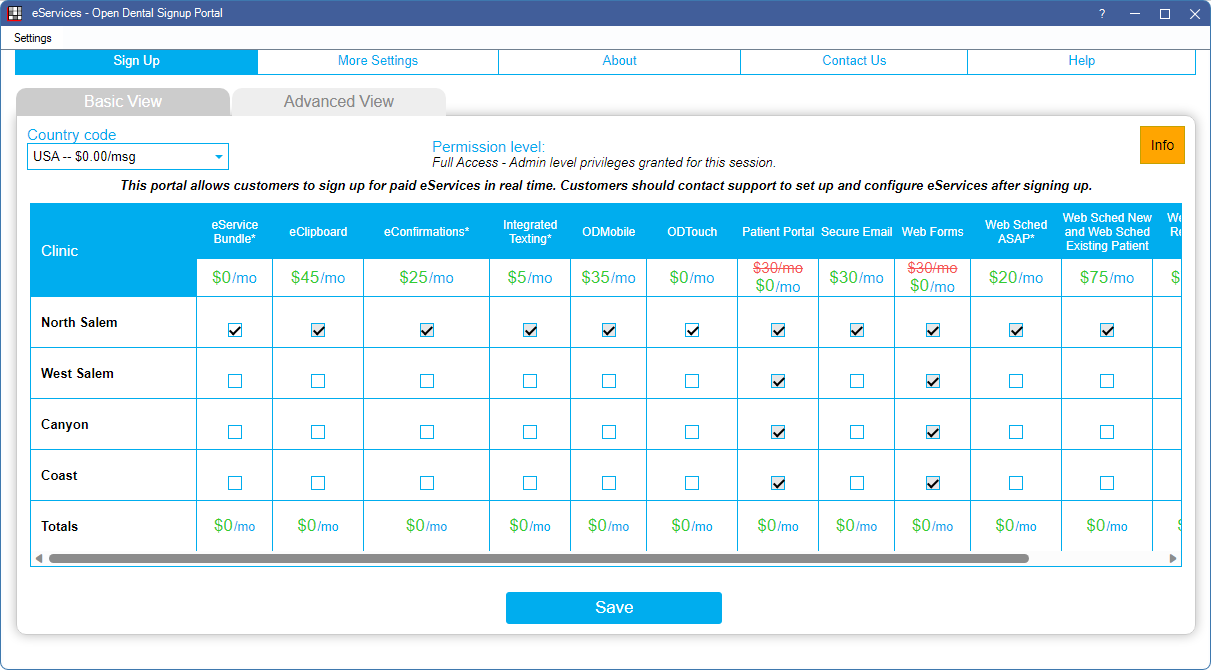 The eServices Signup Portal lets you quickly sign up for eServices.
The eConnector must already be installed. To sign up, the logged on user must have the Security Admin permission. If you have issues, please contact technical support.
In the Main Menu, click eServices, Signup.

The Basic View is active by default when there is only one location.
The Advanced View is active by default when there are multiple locations/clinics.

Hover the mouse over a service to view service description and terms.
Check the box next to each service to enable it. If you select the eServices Bundle, all boxes will check. The Total $ amounts will automatically update to reflect fees.
For Integrated Texting:

Verify the country code. Per message fees vary by country.
Enter an SMS Warning Amount in U.S. dollars. This amount is per clinic and applies to every clinic. Once the amount is reached each month, you will be unable to manually send text messages until the amount is increased or a new billing cycle begins.
Example: If $20 is the amount and there are three clinics, each clinic has an amount of $20, but the total amount will equal $60.

Note:

The SMS Warning Amount does not apply to or stop automated eReminders, eConfirmations, or Web Sched Recall text messages.
Phone numbers are automatically assigned and cannot be changed or customized.

Click Save. New charges will be reflected within two billing cycles.
Click OK to save.
Note:
Integrated Texting access fee is included with eConfirmations. Per outgoing message fees still apply.
Patient Portal and Web Forms are free for those on support. Thus in the Signup Portal these options are always checked.
If you elect to stop an eService (uncheck an active service), it will be flagged to stop after the next billing date.
Discontinue a Service
To discontinue a service, uncheck its box in the Signup Portal and click Save. The checkbox status will change to pending stop (a square) indicating the eService will be stopped after the next bill date. Click the Info box in the upper right to see the Next Bill Date.
Troubleshooting
The Signup Portal window in Open Dental is blank with Internet Explorer 8 installed.
Update Internet Explorer or uninstall it. The Signup Portal is not compatible with IE 8. See Computer Requirements.