In the Main Menu, click File, User Email Address.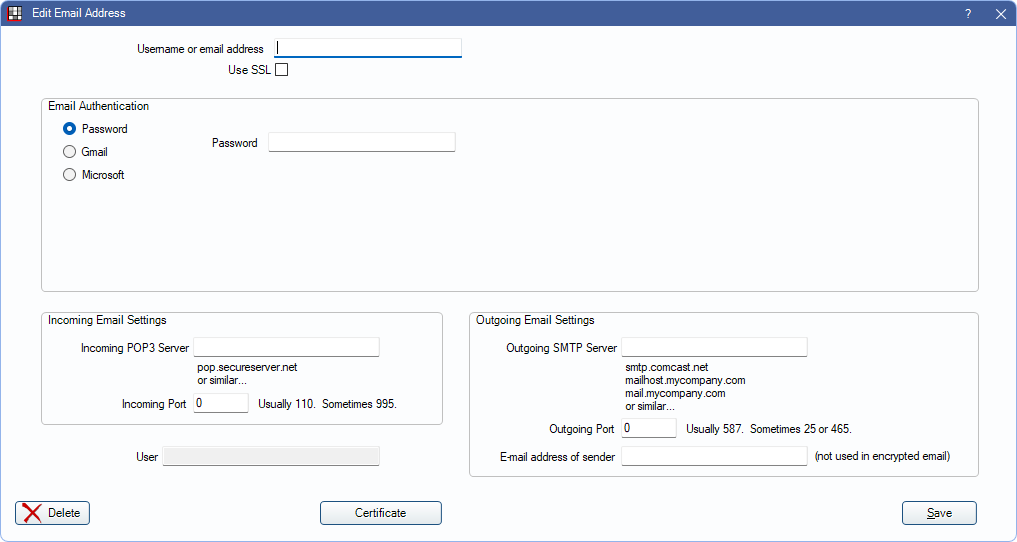 Alternatively, for shared emails, in Email Setup, click Add, or double-click on an existing address to edit.
Note: If accessing this window from the Main Menu, File, User Email Address, then this email is specific to a user. No other users will be able to see emails sent to the address.
Enter the email settings. You may need to consult your email provider.
Username: The full email address.
Use SSL: Check the box to enable SSL/TLS. Uncheck it to disable SSL/TLS.
Password: The password for this email account. For Gmail accounts, see below.
Required for Gmail addresses: Only needed if using a gmail account.
Sign in with Google: Click to allow gmail access to Open Dental. A new tab will open in your browser. Allow access to Open Dental, then copy and paste the authorization code in the following window.

Tokens will automatically populate after the authorization code has been entered.
Once authorized, the Gmail Authorization information will show:

Clear Tokens: Click to clear token. Do this when your gmail password has changed, then re-authorize your account.
Download incoming emails: Check the box to download incoming emails from Gmail mailbox into the Email Inbox. When checked, Outgoing and Incoming Email Settings will display. When unchecked, Outgoing and Incoming Email Settings remain blank.

When using Gmail, the Outgoing Email Settings automatically populate and disable the fields for editing.
Gmail users must have a valid registration key for Open Dental.
Outgoing SMTP Server / Outing Port: Settings used to send email. Implicit SSL ports (e.g. 465) cannot send encrypted email.
Email address of sender: This email address is the display name, but not all email providers will recognize it. It will appear in the From address instead of the username (full email address), though the username credentials will still be used. When sending encrypted email, this field is ignored. (e.g. If Sparkly Dental <bob@gmail.com> the recipient will see Sparkly Dental as the sender instead of bob@gmail.com.)
Incoming POP3 Server and Port: Settings used to receive email.
User: The user associated with the email address. Click [...] to select a user.
Note:
Editing the user is only available when accessing this area from Email Setup.
Users must have the securityadmin permission to change the user assigned to an email address.
The default email address and WebNotify email addresses cannot have a user assigned.
For troubleshooting help, see Email Errors. For information about public certificate hosting for Direct messaging, see Email Certificate Hosting (used by EHR providers to exchange patient health information with other EHR providers).