In the Main Menu, click Lists, Providers.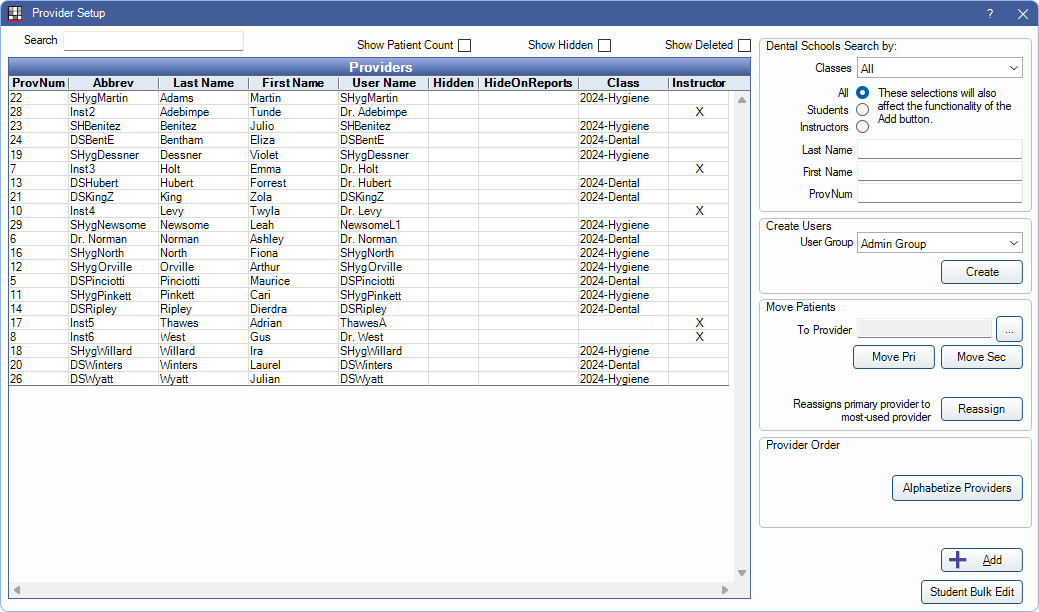 All provider types can be added and edited in the Provider List.
For Dental Schools, there are three types of providers:
To define the security permissions each type has, see Dental School Security.
By default, all providers are listed.
If a provider is an instructor, an X shows in the Instructor column.
To view providers that have been marked Hidden on the Edit Provider window, check Show Hidden.
To view providers that were removed during a Merge Providers, check Show Deleted. The deleted providers are highlighted red and their information can be viewed but not edited.
To filter the list, use the Dental Schools Search by area in the upper right corner.
Classes: Show student providers from a specific Dental Class.
Radio Buttons: All = show all providers; Students = show all students in all classes; Instructors = show all instructors.
Last name, First Name, ProvNum: Enter specific criteria. The list filters as information is typed.
To set up school requirements, see Dental School Requirements Needed.