In the Main Menu, click Lists, Dental School Classes.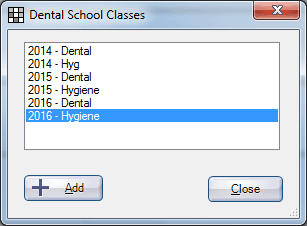 For Dental Schools, classes refer to student groupings (e.g. Hygiene class of 2014). Every student provider must be associated with a class, so classes must be created before adding students.
Click Add or double click a class to edit.

Graduation Year: Enter the class graduation year.
Description: Enter a description (dental or hygiene).
Click OK.
Delete: Click to delete the class. Classes can only be deleted if there are no students attached to them.