In Procedure Codes, in the lower right click Fee Tools.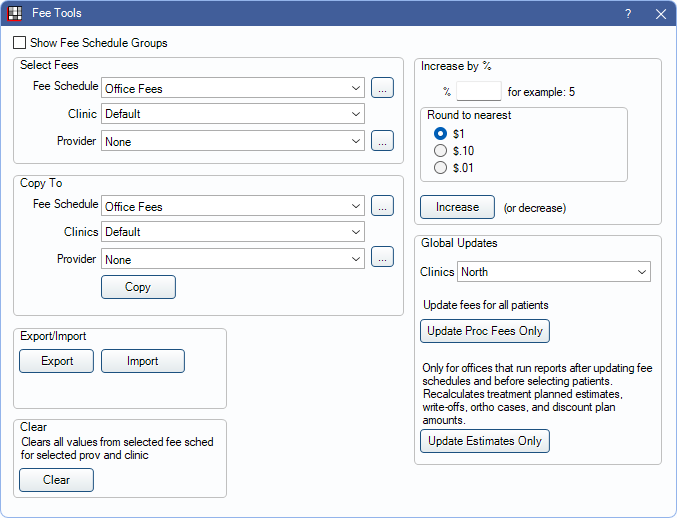 See our video: Updating Your UCR (Office) Fees.
Show Fee Schedule Groups: When checked, will change Clinic option to Group. Only available when Show Fee Schedule Groups is enabled in Enterprise Setup. See Fee Schedule Groups.
Select Fees: Select the criteria for fees that will be copied, exported, imported into, increased, or cleared.
Copy To: Select where fees will be copied to. See Fees Copy.
Export: Export fees that meet Select Fees criteria to a txt file. See Fees Export.
Import: Import fees from a tab delimited file into the Select Fees fee schedule. See Fees Import.
Import Canada: Only displays for users in Canada. See Canada Fee Guides.
Clear: Erase all fees in the Select Fees fee schedule. A confirmation message will show.
Increase by %: Incrementally increase by a percentage all fees that meet Select Fees criteria. See Fees Increase.
Global Updates: Select a button to update fees or estimates for all treatment planned procedures.
Clinics: Use the dropdown menu to select the clinic to update fees for. Use the

ctrl

key to select more than one clinic. Procedures in treatment plans must have a clinic associated for clinic selection to update the fee.
Update Proc Fees Only: Apply fee changes from all fee schedules to all treatment planned procedures at once (active and inactive treatment plans only). See Fees Update.

Only the fee will be updated, not insurance estimates.
Fees in saved treatment plans are not affected.

Update Estimates Only: Recalculates treatment planned estimates, write-offs, ortho cases, and discount plan amounts.

If using clinics, this tool will update estimates for all clinics.
This tool may take a while to run. A progress bar will show. You can pause or cancel the process at any time.