In the Main Menu, click Setup, Definitions, Commlog Types.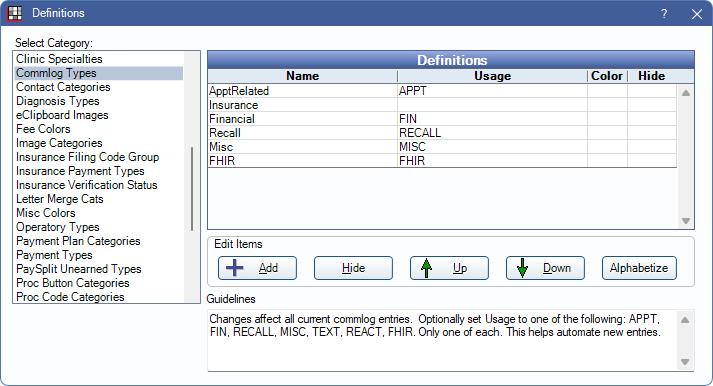 The Commlog Types definition determines the options available in the Commlog type list.
This also assigns the default commlog type for some processes that automatically create commlogs in this definition (e.g., recall, texting, etc.). See Commlog, Automated Commlogs. eServices use the first commlog type in the list.
Double-click an existing item or click Add to create a new item. The Edit Definition window will open.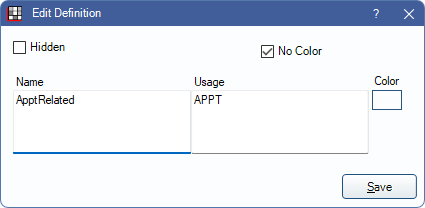 Editing existing commlog types will change the type on current commlog entries.
Name: Enter the commlog type.
Usage: (Optional) Set the default commlog type when a commlog is automatically generated. Only assign one default per type. If no default is set, the first type in the list will be used.

APPT: Enter APPT to set this as the default type when Comm is clicked on the Edit Appointment window. Commlogs with this type are highlighted yellow in the Communications Log - Appointment Scheduling grid.
FIN: No longer used in the program.
RECALL: Enter RECALL to set this as the default type when a recall status is selected from the Set Status dropdown or Comm is clicked on the Recall List.
MISC: Enter MISC to set this as the default type when Commlog is clicked from the Main Toolbar.
TEXT: Enter TEXT to set this as the default type when a Text Message is sent.
REACT: Enter REACT to set this as the default type when using the Reactivation List.

No Color: Check to use no color. Commlog text displays in medium-gray.
Color: Click to assign color to the text of the commlog.
Click OK to save.
To hide a commlog type, check Hidden.