New Rx / Write a Prescription
Paper prescriptions can be written and printed in Open Dental. Print one prescription per page or print several prescriptions on one page. To transmit prescriptions electronically instead, see Electronic Prescriptions.
Setup:
Rx Manage: Create and manage prescriptions and/or print multiple prescriptions per page.
Create a New Prescription
(Optional) Filter the Prescriptions list by drug name and/or dispensed amount. Enter search parameters in either or both fields. Check Controlled Only to limit results to prescriptions marked as controlled substances. Click Search or press Enter to refresh the list.
Double click on a prescription template that is close to your requirements, or click Blank to start with an empty prescription. The Blank button is not available if EHR is turned on.
Note: If a Drug Interaction Alert is triggered, a pop up will display the alert message. Click Cancel to select a different prescription template. Click OK to proceed.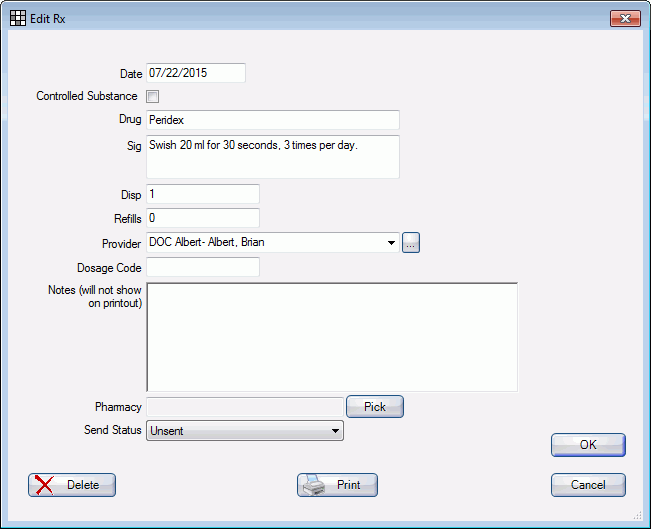 Enter or change prescription information as needed.
Date: Defaults to today.
Controlled Substance: Check this box to display the Provider's DEA# on the printed prescription.
Notes: This is only for your use and not designed to go on the patient prescription.
Pharmacy: Click Pick to select a Pharmacy if the prescription is called in.
Send Status: Choose the status of the selected prescription. Options include Unsent, InElectQueue, SentElect, Printed, Faxed, CalledIn, GaveScript, Pending.
Click OK to save without printing.
Click Print to save and print it to the default printer for single prescriptions (Printer Setup).
To print multiple prescriptions on one page, see Rx Manage.

The Rx sheet set as the default for the Rx sheet type will be used to print single prescriptions. See Setting Sheet Defaults.
Saved prescriptions will be added to the patient's Progress Notes in the Chart module and to the Patient's Medication List. Prescriptions are not previewed before printing, thus they can not be digitally signed or changed before printing. To edit a prescription, double click it then reprint it.
Below is an example of the print layout for the internal Rx sheet (one prescription printed per page). Note that the Generic Substitution Permitted checkbox in the internal sheet is always checked. To remove the checkmark, customize the sheet.
For pre-printed forms, we have found FormSource to have good service and reliability. See their Open Dental Health Care Form Price List. Their number is 1-800-553-3676. See also Vendors - Printing.
Audit Trail
Any time a prescription is created, edited, deleted, or printed, a log is created in the Audit Trail. Users must have the RxCreate security Permission to create new prescriptions and the RxEdit permission to change or delete prescriptions. To view an audit trail of changes made to a selected prescription only, double click an existing prescription in the Progress Notes, then click Audit Trail on the Edit Rx window.