In Task, reminders can be used to remind staff of tasks that need to be done daily, weekly, monthly, or yearly.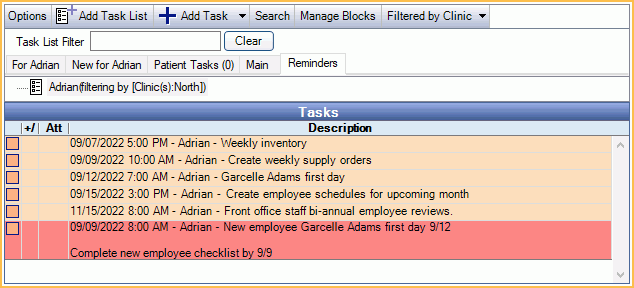 The reminder will pop up and show in a user's task list when it is due until it is marked done. Task reminders are an updated alternative to Repeating Task Lists (Legacy).
Note: You must disable the
Show legacy repeating tasks option
from
Tasks Preferences
for Task Reminders to work correctly.
Task reminders show in three places:
How task reminders work
Enable tasks and set up user inboxes and task lists. See Tasks Preferences.
Create a task reminder, setting type, date/time and repeat interval.
When the reminder is due, it will pop up and appear in the task list. Mark the reminder done to make it disappear until its next due date.
When you no longer want the reminder to appear, change the Reminder Type to NoReminder.
Note:
All users subscribed to the task list will receive the reminder until it is marked done.
The time a task reminder appears will be based on the time it is created (Date/Time Entry). For example, a time entry of 3:45 pm will cause a daily reminder to appear at 3:45 pm each day.
Task Priority determines color. Light orange is the default color for Reminder priority and task reminders. Edit defaults in Definitions: Task Priorities.
Reminder tasks will be turned off if office is using Legacy tasks. See Task Preferences.
Create a task reminder
Examples:
Daily type, every 1 day, will cause a reminder to appear every day.
Weekly type, every 2 weeks, F, will cause a reminder to appear every 2 weeks on Friday.
Yearly type, every 1 year, will cause a reminder to appear every year on the date.
In the Tasks area, select the task list the reminder will show in, then click the Add Task dropdown, Reminder. Or, click the Reminders tab then Add Task.

Date/Time Entry: Enter the date/time you want the reminder to first appear. The default is today at the current time.
Reminder Type: Select the type of reminder:

NoReminder: Selected by default for normal tasks. This task is not a reminder.
Once: Selected by default when adding a reminder task using the Add Task, Reminder dropdown or when the Reminders tab is selected. Use the calendar dropdown and time picker to choose a date and time. The reminder will appear once on the selected date and time.
Daily: This reminder appears once per day.
Weekly: This reminder type appears weekly on a designated day or days.
Monthly: This reminder type appears once per month.
Yearly: This reminder type appears once per year.

Reminder Every __: Enter the repeat frequency. For example, Every3days, Every2weeks, Every1year.
Reminder Days: Only shows for weekly repeat interval. Select the day of the week the reminder should appear:

M = Monday
T = Tuesday
W = Wednesday
R = Thursday
F = Friday
S = Saturday
U = Sunday.

Task Priority: Select the task priority to organize reminders by importance. The default is Reminder with a color of light orange. Add options in Definitions, Task Priorities.
Description: Enter the text of the reminder.
If the Task List is already selected, click OK. Or, click Send To, select the task list to send the reminder to and click OK.
Complete or remove task reminders
To mark a task reminder as complete and remove it temporarily from your list until the next due date, mark it Done. This will create a new reminder task for the next interval date.
To stop a task reminder from repeating, set the repeat interval to Once or NoReminder.
To permanently remove a task reminder from a task list, delete it.
Note: To view task reminders that have been marked Done, in the Tasks area, click Options, Show Finished Tasks.
Task reminder history
A history of task reminders shows under the Reminders tab, grouped by task list.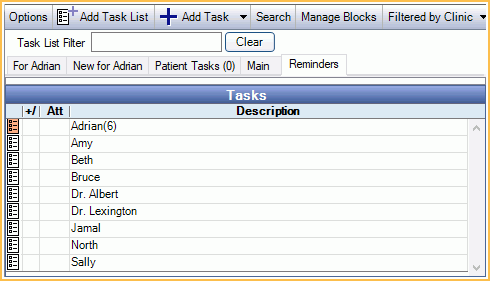 The list includes:
New/viewed task reminders.
Task reminders due in the future.
If Show Finished Tasks is selected, task reminders marked Done also show.
To view a history of all actions taken on a task reminder, open the task reminder and click History.


Create Date: The original date of the task.
Edit Date: The date the change was made.
Editing User: The user who made the change.
Changes: A description of the change.