Use the Repeating Charges tool or set up automated repeating charges to post repeating procedures to patient accounts each month.
In the Main Menu, click Tools, Repeating Charges.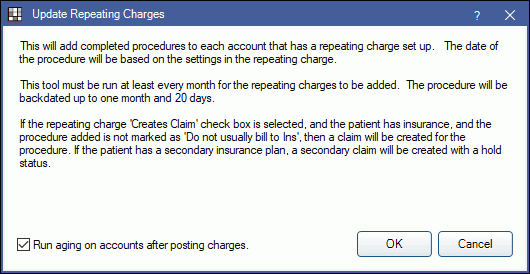 To set up repeating procedures for a patient, see Repeating Charge.
Repeating Charges Tool
The repeating charge tool will complete any repeating procedures set up for a patient, create a primary and secondary insurance claim for the procedure (if enabled), and allocate any prepayments (if enabled). Run this tool before generating the Billing List to include repeating charges on patient statements and before running the recurring charges tool to include these patients with new balances.
To run the tool:
In the main menu, click Tools, Repeating Charges.
Run aging on accounts after posting charges: Check to run Aging and update the age of account balances for patients with the new charges.
Click OK. The total number of procedures and claims added will show.
Note: If the tool is run after the scheduled repeating charge day (up to 1 month and 20 days after), it will backdate all missed repeating charges to the patient's account with the date of the scheduled charge.
Automated Repeating Charges
Optionally, enable the automated repeating charge preference to automatically post repeating procedures at a specific time each day instead of manually running the tool. The automated service will also create primary and secondary insurance claims for posted procedures (if enabled), and allocate any prepayments (if enabled). To enable the service, in the Account Module Preferences, Misc Account tab, check Repeating charges run automatically and set the daily run time. Set the time to run prior to generating the billing list and at least 30 minutes to an hour before the automated CC Recurring Charges run time (if enabled). This is to include repeating procedures on statements and in credit card charges. Also, ensure the computer with the OpenDentalService (typically the server) is on at the scheduled run time. Open Dental does not need to be running but the computer must be on for the service to work.
Once enabled, repeating charges will only post once per day and will not run if the service or the repeating charge tool has been run, is currently running, or if the recurring charge tool is running. If the repeating charge run time is changed, the service will not run again until the next day. The repeating charge tool may be safely run at any time to post new repeating charges that are set up after the automated preference has been run.
Example of transactions when a prepayment is applied to a repeating charge using an income transfer.

Example of transactions when a claim is created automatically for a repeating charge.