Patient pictures are images that can be associated to a patient.
In the Family Module, Patient Pictures will display at the top left.

Optionally it will also display when you hover over an appointment in the Appointments Module.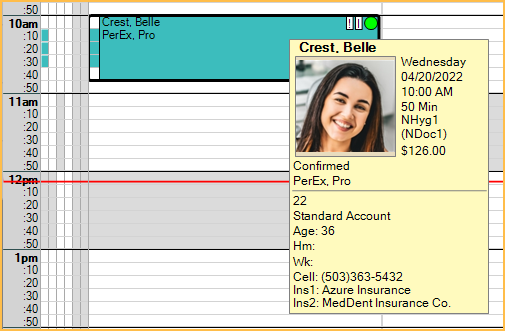 Add a Patient Picture
By default, new patient photos are stored in the Patient Pictures folder of the Images Module. The most recent image in the folder is used as the patient picture. Typical file types of jpg, gif, and png.
To change the folder that stores patient pictures.
In the Main Menu, click Setup, Definitions: Image Categories.
Double click the category.
For Usage, check Patient Pictures.
Click OK to save.
Only one category can be designated as Patient Pictures. If you change it, make sure to change the usage for the original category.
Add a Patient Picture File
To take the patient's picture, use a webcam or digital camera, then save the image in an appropriate file format (jpg, gif, png).
Note: Web cams can be used in Open Dental if the proper TWAIN driver is installed. If a TWAIN driver is installed, you can take a patient picture using the scan button. Open Dental does not support a live feed so you will not be able to view the image before it's taken.
To add the image to Open Dental, you have two options.
Import the Image
In the Images Module, select the Patient Picture category.
Click Import.
Locate and select the picture file.
Enter Item Info (optional)
Click OK.
Drag and Drop
In File Explorer, or on your desktop, select the image.
Drag and drop the image into the Images module Patient Picture category.
Enter Item Info (optional).
Click OK.
Remove a Patient Picture
To permanently remove a picture, in the Images Module, right click the image file and select Delete.
To add or remove the patient picture from the appointment bubble:
In the Main Menu, click Setup, Display Fields.
Double click on Appointment Bubble.
Move Patient Picture to or from the Fields Showing list.
Click OK to save.
Note: If looking for recommendations regarding specific models of webcam that customers utilize within the Open Dental program, we recommend reaching out to our broad customer base via the Open Dental forum. Due to the vast number of models and differences in customer hardware, it is hard for us to make direct recommendations. Keep in mind that whichever webcam model you use, it is a requirement for it to function with a TWAIN driver.