Billing
Batch billing can be run daily, monthly, or per your practice preference. By default, patients only receive a bill if they have not been billed in the last 30 days. To generate a single statement, invoice, or receipt, see Statements instead.


Appointment reminders will always show on statements.
See Webinars for a list of webinars about billing.
To securely email statements, see eBills. Regular email is not a secure method of sending statements (PHI).
Billing Options Window
In the Manage module, click Billing.
If using Clinics, and the logged-on user is associated with multiple clinics, the user will be prompted to select a clinic. Highlight the correct option then click OK.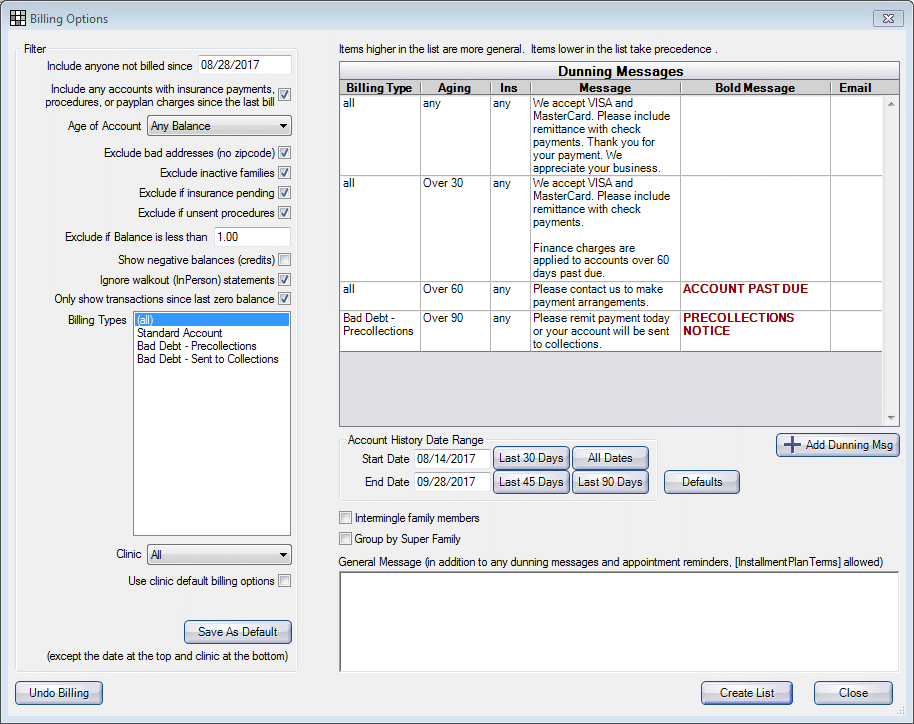 If the Billing List opens instead of the Billing Options window, a list has already been created and there are unsent bills. Before you can generate a new list, you must send the unsent bills or delete them. To delete, click Close, then click Yes to the delete message. You will receive a notification when the deletion is successful. Click OK and the window will close. Click Billing to start again.
Filter Options: Select Billing Filter Options to determine who shows in the Billing List. To save your selections for the next time you run billing, click Save as Default.
Undo Billing: See Billing List, Unsending Bills.
Dunning Messages: A dunning message is a note that shows on statements based on account Aging, insurance pending, billing type, or a combination of these criteria. Only one dunning message will be used on any bill. The first message that matches will be used, starting from the bottom up (lower listed messages take precedence). Messages are sorted by criteria complexity: messages with more general criteria appear higher in the list, messages with stricter criteria appear lower. See Dunning Messages.
Dunning messages only show on statements generated via the Billing List, not when printing or emailing statements from the customer's account. To print and email the same statement, we recommend emailing from the Billing List so you can use the Email Override variables available in the Dunning Message which are not available in regular email templates. Then print the Statement from the customer's account.
Billing Defaults: The options below can be set each time you run billing. Default values are set in Billing Defaults.
Date Range: Determines how many days of account history will show on each statement.
Intermingle Family Members: If checked, family members will be mixed together on the statement and ordered by date. If unchecked, each family member will have their own section on the statement with a total. Electronic Bills (statements by a third party) are always intermingled.
Group by Super Family: Only an option if Super Families and Statements use sheets is enabled. Check the box to create super statements instead of statements for each super family guarantor. A super statement will be addressed to the head of the super family and include account activity for all super family members, grouped by guarantor.
General Message: Shows at the bottom of the statement in addition to dunning messages and appointment information.
Create List: Generate the Billing List.