Alerts
The Alert menu option in the Main Menu notifies the logged on user of new alerts to which they are subscribed. If using Clinics, only alerts for the currently selected clinic show, and only when the logged on user is subscribed to the alert.
When there are new, unread alerts, the Alert menu item highlights yellow and indicates the number of active alerts.

When an alert is marked as read, it is no longer highlighted, but is still considered active until any needed action is complete.

If alerts are not updating, make sure OpenDentalService.exe is installed in the Service Manager.
Alert Types
Generic: Generic alerts offer helpful information about Open Dental, such as tips to use the program or when a popular new feature becomes available.
Pending Online Payments: This alert appears when there are pending online payments made via the Patient Portal. Once a payment is processed, the online payment is no longer counted in the alert.
Radiology Orders: This alert appears when the logged on provider has radiology orders with a treatment planned (TP) status that are not marked 'CPOE'. The provider must have an EHR Annual Provider Key to get these alerts.
Open Dental Service Error: This alert appears when Open Dental cannot establish a connection to OpenDentalService.exe.
Subscribing to Alerts
Subscribe individual users to alerts in the Security area.
In the main menu, click Setup, Security, then double click on the user. In the User Edit window, click the Alert Subs tab.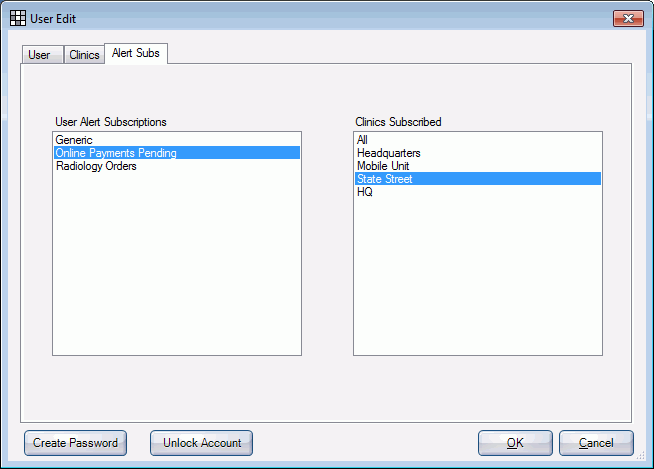 Under User Alert Subscriptions, highlight the alert type(s) to subscribe the user.
If using Clinics, choose which clinics the user will see alerts for. Take into consideration any clinic restrictions you have set. Users will only see alerts for clinics to which they have access.
Unsubscribing from Alerts
In the User Edit window, hold Ctrl and click on an alert type to unsubscribe. Each user must be individually unsubscribed from alert types.