In the lower right corner of the Appointments Module is the Waiting Room used to track patients who have arrived for their appointment.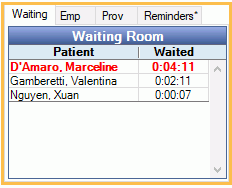 Patients who list in the waiting room have a Time Arrived, but not a Time Seated entry on the Edit Appointment.
Automated entries for Time Arrived and Time Seated are triggered by Confirmation Status. The default Time Arrived trigger is Arrived. The default Time Seated trigger is In Treatment Room. Change the triggers in Appointments Module Preferences.
How it works
When the patient arrives, open their account in the Appointments module.
On the right, click the confirmation status abbreviation that triggers a Time Arrived entry (e.g. Arrived).

The patient will list in the waiting room.
When patient is seated, select the status that triggers Time Seated (e.g. In Room). The patient will no longer show in the waiting room.
Additional Appointment Module Preference Options
Waiting Room alert time in minutes, Waiting room alert color: Use text color to flag patients whose wait time exceeds a certain value.
Filter the waiting room based on the selected appointment view.
Refresh every 60 seconds. Keeps waiting room times refreshed.
When using clinics, the patients that show in the waiting room are based on the clinic selected in the main menu. If Headquarters is the clinic, all patients waiting for all clinics will show.
Troubleshooting
If you accidentally select a confirmation status that inserts a Time Seated entry but want the patient to remain in the waiting room, double click the appointment and remove the Time Seated value.