See Secure Email Setup.
Secure email messages can be sent to patients, and patient replies are also secure.
First, enable Secure Email in eServices Signup.
Sending Secure Email
To send a secure email message:
In Open Dental, select the patient to email.

If emailing another provider or office, add them as a patient. Set the patient status for these accounts to NonPatient.

Click Email.
Enter the email subject and body. Both fields are required to include text. Attach any files if needed.
Click Send Secure.

See Email Message Edit for details.
Emails can only be sent directly to the patient. CC or BCC addresses are not allowed.
Patient Process
When a patient receives a secure email message, they will do the following to view the message:
In their email client, they will receive a notice that a secure email is available.

The patient clicks View Secure Email. They will be prompted to enter a one-time passcode.

The passcode will be emailed to the same email address for the patient.

The patient will copy and paste the code, then clicks Verify.

The patient will then be able to view the secure message.

Tabs:

Inbox: The patient can view other received secure email messages.
Sent: The patient can view replies they sent back to the office.
Files: The patient can view any files attached to secure email messages.



If the patient wishes to reply, they will click Reply All.
Attachments can be included in replies (bmp, cur, docx, gif, ico, jfif, jpeg, jpg, log, pdf, pjp, pjpeg, png, svg, tif, tiff, txt). Maximum file size is 20MB.

When the patient is done reviewing messages, they can Sign Out.
Receiving Patient Replies
An Alert will appear in the Main Menu when a patient has sent a new secure email reply. To view replies to Secure Emails, see Email Client.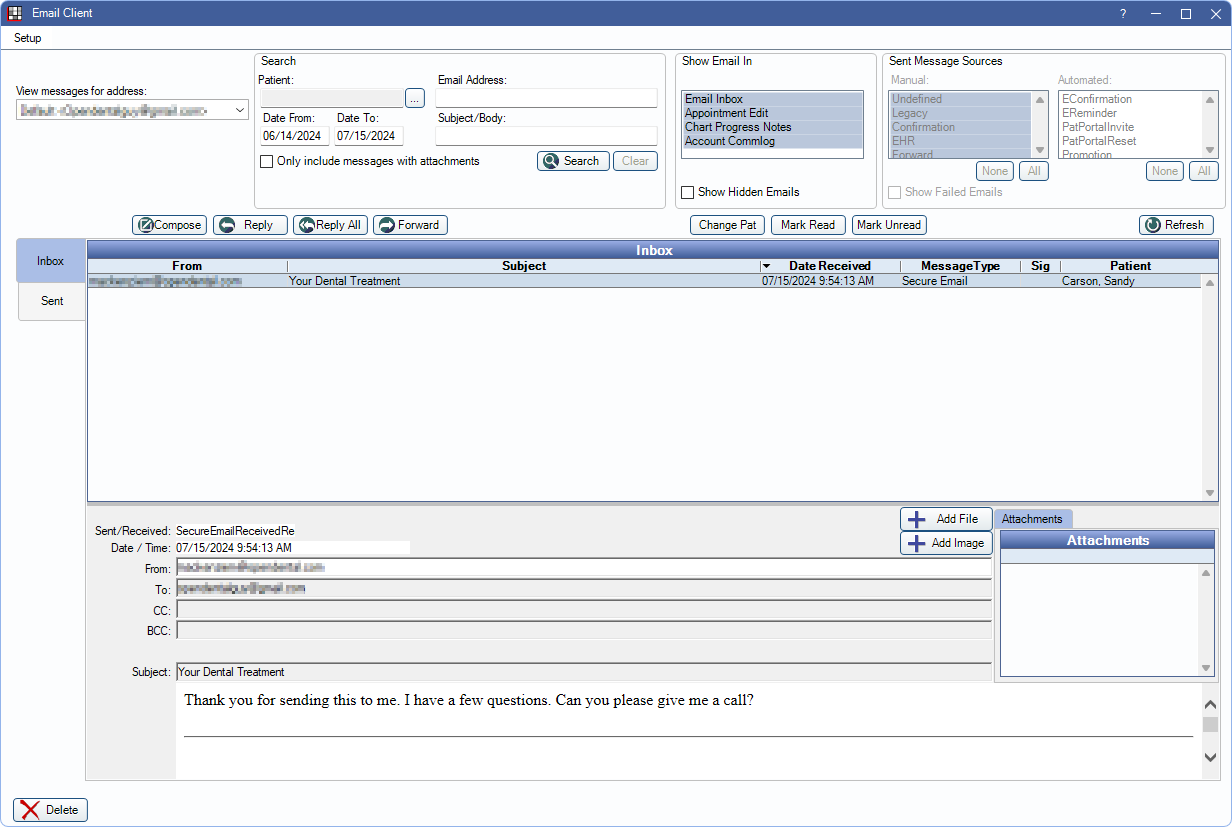 Note:
If testing Secure Email, use a different To Address than the From Address. Using the same email address for To and From will not allow a notification to be sent.
Attachments sent from the patient are available in the patient's chart.