Create referral slips when referring patients to other providers.
In the Referrals grid, double-click. With a referral source selected, click Referral Slip.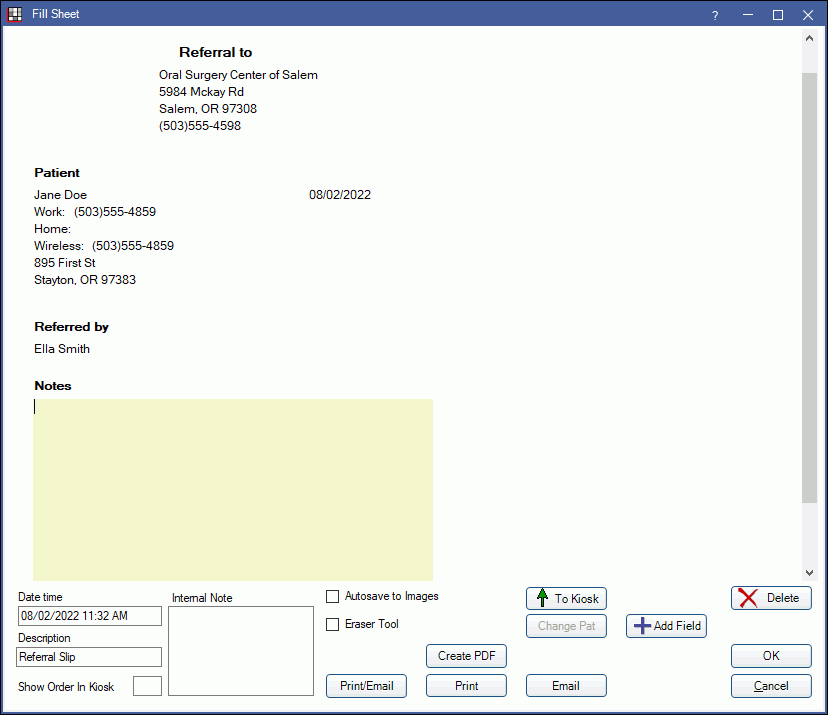 Add notes or edit the referral slip information from the Fill Sheet window. The pale yellow areas indicate fields that may require additional provider input such as notes. Use the mouse to pen information onto the sheet, if needed.
Date Time: The date and time the referral slip was created.
Description: The default sheet description.
Internal Note: Text entered here is only visible in the Fill Sheet window
Eraser Tool: Check to change the mouse function from pen to eraser and erase the pen edits.
Change Patient: If the referral slip was created for the wrong patient, click to select the correct patient.
To send the referral slip to the Kiosk Manager for patient input click To Kiosk. If the patient is filling out multiple forms in a specific order, enter the order number in Show Order in Kiosk field. For example, enter the number 3 to make it the third form in the kiosk.
When the slip is complete, click Print or Email to send. To print and email a copy of the slip, click Print/Email. Enter the number of copies to print and check whether to email the slip to the patient, to the referral source, or both. If both, the Edit Email Message window will appear for each recipient.
The slip is saved in the Account Module, Communication Log, Chart Module, Progress Notes, and in the Edit Referral Attachment window of the referral source. To also save a PDF copy, click Create PDF.
To customize and create new referral slips, see Referral Slip Layout. Assign custom slips to a referral source in the Referral List.