Users can customize the Patient Portal by selecting which features to utilize.
In eServices Signup, click More Settings.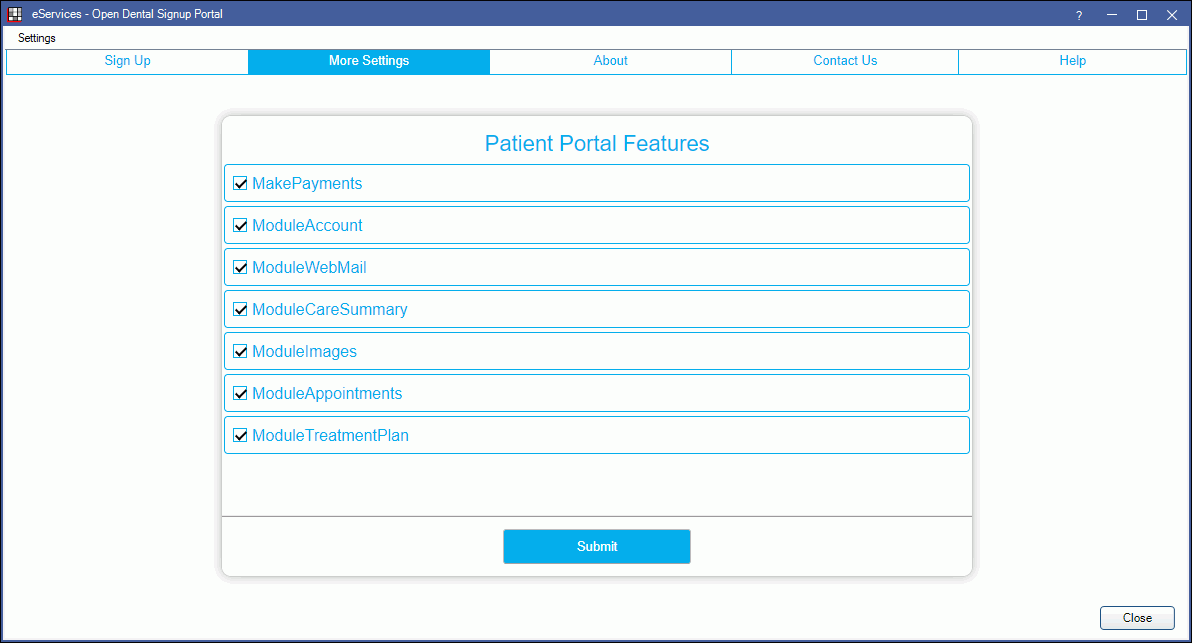 Note: To set up the portal, the eConnector must already be installed. See
eConnector
for easy installation steps.
Overview of Setup Steps
Select portal features. See below.
Verify the patient portal URLs. See Patient Portal.
Customize secure WebMail settings (notification email, default WebMail Notify email address). See Patient Portal.
Set up automated Patient Portal Invites (optional). See Patient Portal.
Import code systems. See Patient Portal.
Grant access to patients. See Patient Portal Access.
Portal Features
This process will determine which features are available to patients in the portal.
Select the features patients can see and use in the portal.
MakePayments: Patients can make online payments using XCharge (OpenEdge) or PayConnect. For more setup information, see Online Payment Management.
ModuleAccount: Patients can view payments and statements.
ModuleWebMail: Use Secure WebMail Feature to view, compose, and send secure messages between provider and patient.
ModuleCareSummary: Patients can view, download, and transmit care summaries.
ModuleImages: Patients can view and download PDFs or images stored in Images folders shared to the portal.
MakeAppointments: Patients can view scheduled and completed appointments and other action needed items, such as eConfirmations that need confirmed and Web Sched Recall notifications that are still unscheduled.
ModuleTreatmentPlan: Patients can view saved treatment plans.
Click Submit to apply changes. It may take up to 15 minutes for changes to take effect.
Import Coding Systems
To allow patients to view care summaries in the portal, you must import standard code systems into Open Dental. We recommend importing all coding systems, but at a minimum import SNOMED CT Codes, CVX, and RxNorms. Also see Importing Code Systems.
In the main menu, click Setup, Chart, EHR, then Code System Importer.
Click Check for Updates.
Select the code systems, then click Download Updates, Import.