In the Main Menu, click Setup, Chart, EHR.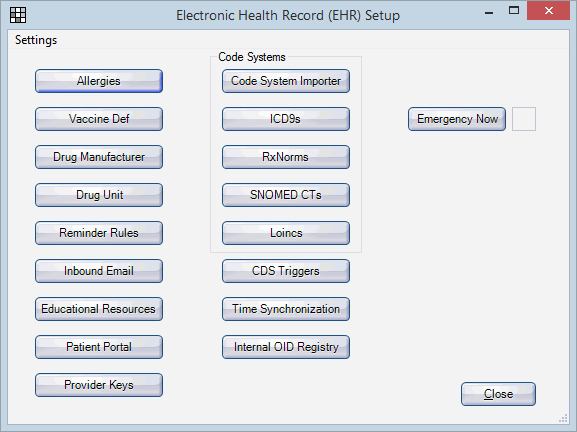 Before entering patient data for EHR, you must define information so that it is available for selection. Several setup areas are accessed from the EHR setup window.
Settings: Define global meaningful use stage settings, severity levels for drug interaction alerts, and default encounter and pregnancy codes used in CQMs.
Allergies: Access the Allergy List.
Vaccine Def: Define any vaccines you administer. Usually dental offices do not give vaccines. See EHR Vaccine Setup.
Drug Manufacturers: Set up EHR Vaccine Drug Manufacturers for the vaccines you administer.
Drug Units: Set up EHR Vaccine Drug Units for the vaccines you administer.
Reminder Rules: (optional) Set up rules for patient reminders. Rules are not required to document that a reminder has been sent.
Inbound Email: Define Email Setup.
Educational Resources: Define Educational Resources that will be triggered for patients based on specific conditions.
Patient Portal: Set up the Patient Portal Feature.
Provider Keys: Enter EHR Annual Provider Keys.
Code Systems: Download and view coding systems that are attached to patient data.
Code System Importer: Download a coding system from the Open Dental website. See Importing Code Systems.
ICD 9: View or search ICD-9 or ICD-10 codes that have been imported.
RxNorms: View or search that have been imported.
SNOMED CTs: View or search SNOMED CT codes that have been imported.
LOINCs: View or search LOINC codes that have been imported.
CDS Triggers: Configure Clinical Decision Support (CDS) interventions and permissions by user. See EHR Configure CDS Rules and EHR CDS Permissions.
Time Synchronization: View the EHR NIST Time Synchronization window.
Internal OID Registry: Set up EHR Object Identifiers (OIDs).
Emergency Now: Turn on/off temporary EHR Emergency access.