Allergy Setup is a master list that contains all allergies that can be added to a patient's Medical - Allergies tab.
In the Main Menu, click Lists, Allergies.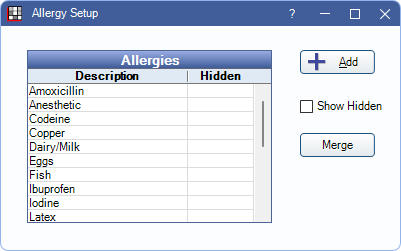 Alternatively, go to Setup, Chart, EHR, and click Allergies.
Allergies are listed alphabetically. To show allergies marked hidden, check Show Hidden .
Click Add to create a new allergy or double-click an existing allergy to edit. The Allergy Def Edit window will open.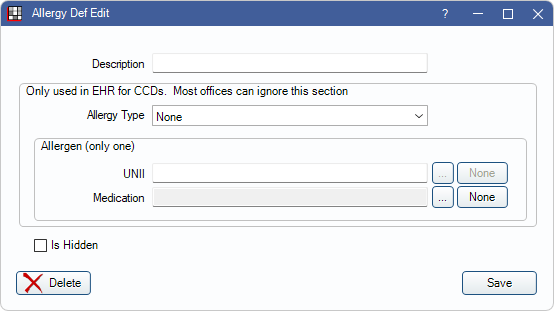 Allergies can also be added to the master list while editing a Medical History Sheet.
Description: Enter the allergy name.
Only used in EHR for CCDs: Most non-EHR offices can ignore these.

Allergy Type: A value is required in order for the allergy to list on an EHR Continuity of Care Document ( CCD )(e.g. Summary of Care).
Allergen (only one): Either the UNII or Medication can be entered, not both.

UNII: Used for ingredient allergies (e.g., latex, peanuts). Enter a UNII to show this allergy on the CCD. Must be manually entered as a 10 character, uppercase, alphanumeric code. To search for UNII codes see https://precision.fda.gov/uniisearch .
Medication: Click [...] to select from the Medications List. To show on an a CCD, medication allergies must be associated with medications that have an RxNorm. Click None to clear the box.

Is Hidden: Check to hide the allergy from the Allergy Edit list when adding Allergies to a patient. The allergy is still shown in patient charts it was added to.
Delete: Remove an allergy from Allergy Setup. Allergies in use (i.e., added to a patient's Allergies) cannot be deleted. Mark Is Hidden instead.