In the Main Menu, click Setup, Program Links. Double-click on EdgeExpress from www.globalpaymentsintegrated.com.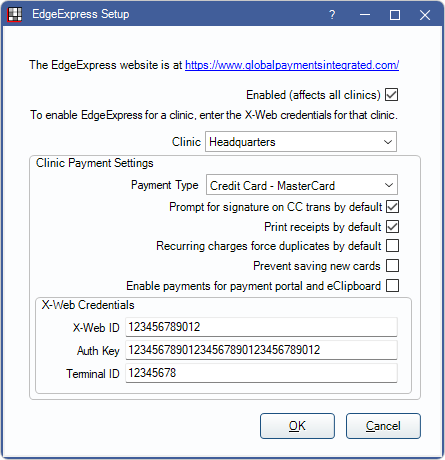 EdgeExpress is part of XCharge (OpenEdge). Both are provided by Global Payments Integrated.
Typically, EdgeExpress cannot be installed simultaneously with XCharge, as only one can be used for regular patient payments.
If using EdgeExpress for online payments, XCharge can still be installed for regular patient payments.
Open Dental Cloud users must use EdgeExpress over XCharge.
To enable EdgeExpress:
Check the Enabled box.
If using clinics, select the Clinic the Payment Settings apply to.
Select the default Payment Type for EdgeExpress transactions.

If the Preference, Payments prompt for Payment Type, is enabled, users must manually select a payment type.

Determine the following:

Prompt for signature on CC trans by default: Check to prompt patients for a signature on the credit card terminal before completing transactions. The terminal must support electronic signatures.
Print receipts by default: Check to automatically print an EdgeExpress receipt to the default receipt Printer when a transaction is completed.
Recurring charges force duplicates by default: By default, transactions for the same amount charged to the same card on the same day are declined. This is to prevent accidentally charging a card twice. Check to allow duplicate charges. Useful if family members have recurring charges set up on the same card for the same day.
Prevent saving new cards: Uncheck to allow users to process new transactions or save new payment information to a patient's account. Check to prevent users from processing new transactions or saving new payment information.

To set whether or not new cards are saved to a patient's account after each transaction, see Preferences, Automatically store credit card tokens.

Enable payments for Payment Portal and eClipboard: Check to allow patient payments via Payment Portal.

Enter the X-Web settings:

Enter the XWebID (12 digits).
Enter the Auth Key (32 digits).
Enter the Terminal ID (8 digits).

Click OK to save.
When enabled, a Global Payments Integrated button displays in the Payment window.