Arrivals allow an office to eaily manage the number of patients physically in the office.
In eServices Setup, click Automated Messaging.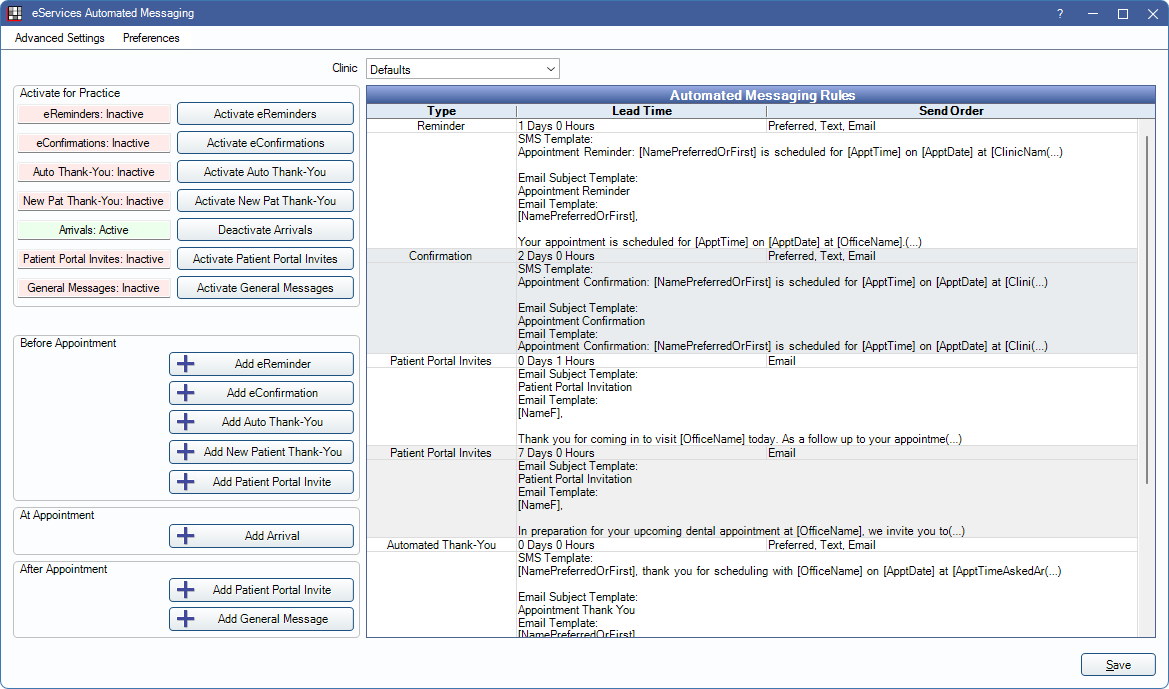 Arrivals automatically send a text message to patients requesting they wait in their vehicle before their appointment. When the patient arrives, they will text the response back to the office. This changes the appointment status to Arrived, sends an automatic text message asking the patient to wait outside, and creates an Alert to notify the office. When the appointment is ready, the office can then right-click on the appointment and send a Come In text message to the patient stating they can come inside the building.
Note:
If multiple appointments on the same day share the same patient email address and/or wireless phone number, the associated Arrival will be grouped into one text message.
Similarly, if multiple patients from a family are scheduled, only patients sharing the same phone number will be marked as arrived when the patient replies.
If a patient has been sent an Arrival message, and the appointment status is manually set to Arrived, the automatic text message asking the patient to wait outside will still send.
Appointment status may vary if the office has edited statuses in Definitions: Appt Confirmed and Appointments Module Preferences.
Activate / Deactivate Arrivals
Arrivals can be activated or deactivated as needed.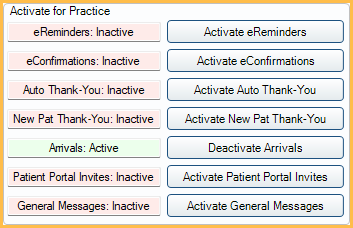 To enable Arrivals, click Activate Arrivals. The Arrival row will display in green with a status of Active.
To disable Arrivals, click Deactivate Arrivals. The Arrival row will display in red with a status of Inactive.
After activating Arrivals, set up Arrival Rules.
Arrival Rules
To edit an existing Arrival Rule, double-click an Arrivals Rule from the Automated Messaging Rules grid. To add a new rule, click Add Arrival.
For information on adding and editing rules, see Edit Rule.