In the Main Menu, click Setup, Appointments, Appointment Views.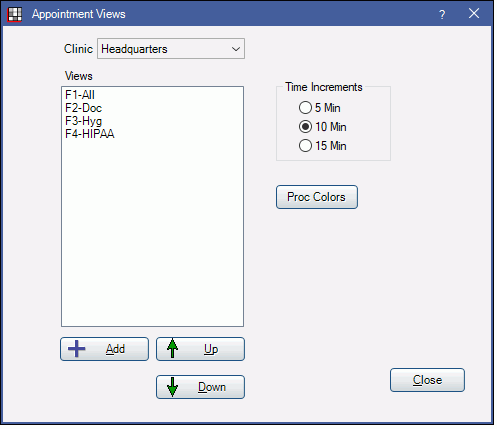 Appointment Views determine the operatories and providers that show in the Appointments Module and the information that shows in a view's appointment box.
Clinics: If using Clinics, views are associated with specific clinics. All corresponds to Headquarters. Users can only access appointment views for clinics they have access to.
Views: Lists the appointment views already setup. Each view is associated with a function key (e.g F1). The Fkey is determined by the view's order on the Appointment Views window. To change a view's sort order, highlight it, then click the Up/Down Arrows. Double click a view to edit.
Time Increments: Set the time increment (5 minutes, 10 minutes, 15 minutes). The time increment affects all views.
Click Add to create a new appointment view, or double click an existing view to edit. See Appointment View Edit.