Reports
Open Dental has many report options that allow you to view your data in organized formats.
Reports in the Main Menu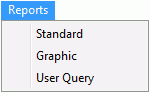 Standard: Standard, text based reports (production and income, daily and monthly reports, lists, and public health options). Optionally run Production and Income Reports on a Report Server.
Graphic: Visual graphic reports by provider or clinic and customizable to fit your requirements (production and income, accounts receivable, new patients, and broken appointments).
User Query: Generate custom reports in any format and export any data you want.
Open Dental has a few built in queries to list tables.
There are over 1000 Query Examples that you can copy and paste for use.
Write your own queries.
We can write Custom Queries for you. For a list of query examples, see Query Examples.
Optional: To add a clickable URL as a Reports menu option, see Custom Bridges.
Appointment Lists
Recall List
Confirmation List
Planned Tracker
Unscheduled List
ASAP List
Radiology Order List
Insurance Verification List
Other
Accounting Reports (General Ledger Detail and Balance Sheets)
Clearinghouse Reports
Arizona Reports
Labels
Troubleshooting
Custom Reports option: Some users may have a Custom Reports menu item. This is part a deprecated report system. It means there is a reports folder in your A to Z Folders (typically Reports) that contains at least one .rdl file (e.g. Unsched Treat Plans.rdl). For each .rdl file in the folder, there will be one menu item.