Reports
Reports allow you to view your data in organized, printable formats. There are three different types of reports.
In the Main Menu, click Reports, then select the report type.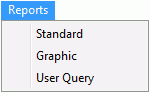 Standard: Track data for your practice in standard, text-based reports. View production and income, daily and monthly reports, lists, and public health.
Graphic: Generate visual graphic reports by provider or clinic and customize to fit your requirements. View production and income, accounts receivable, new patients, and broken appointments.
User Query: Generate custom reports that do not already exist in the Standard Reports list.
Program bridges added to the ReportsMenu toolbar will add additional clickable options to the Reports dropdown. See Custom Bridges, Add a Report URL.
Several reports and lists are available in other areas of the program:
Appointment Lists:
Accounting Reports (General Ledger Detail and Balance Sheets)
Clearinghouse Reports
Arizona Reports
Labels
Custom Reports option: Some users may have a Custom Reports menu item. This is part a deprecated report system. It means there is a reports folder in your A to Z Folders (typically Reports) that contains at least one .rdl file (e.g. Unsched Treat Plans.rdl). For each .rdl file in the folder, there will be one menu item.

Troubleshooting
Problem: When I click Standard Reports, I receive the following message: At least one insurance payment is not finalized. Reports will be inaccurate until all payments are finalized.
Solution: This means that at least one claim payment has only been partially entered. To identify and complete partial claim payments, you have two options:
For payments entered by batch, partial payments are identified with an X on the Batch Insurance Payments window. Double click the row to complete the payment.
For payments entered by claim, use query 971 in Query Examples to identify the claims. Reopen each claim, then click Finalize Payment to attach the received claim to a payment.