Query Favorites
Because Queries can be complex and take time to write, it is good practice to save the queries you use often to the favorites list. You can add, edit, and easily access the favorite list from the Query window.
Access Query Favorites
In the Query window, click Favorites.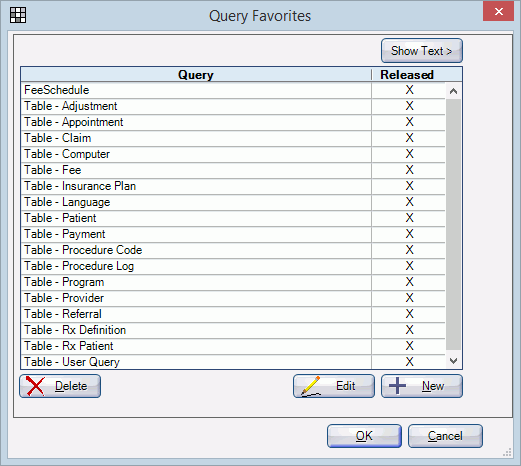 There are premade queries for each table in the database, as well as extra useful queries.

Single click on a query to view it on the right.

To run a query, double click on it.
Add a Favorite Query
Typically you will edit the query on the Query window and test it before adding to your list of favorites.


On the Query window, click Add to Favorites, or on the Query Favorites window click +New.
When you "Add to Favorites" the query text will automatically show. When you create "new", all fields will be blank.


Enter the query name as the Title.

If needed, enter or copy/paste the query text. The query may be long and you can start new lines wherever needed for clarity.

Enter the default Export File name used when this table is exported (optional).

Click OK to save.