Graphic Reports
Graphic Reports is a tool to track the production and income of your practice, accounts receivable, number of new patients, and broken appointments using color coded charts and graphs. This visual feature lets you quickly compare days, weeks, months and years of data to analyze trends and identify areas that can be improved.

Note: Graphic Reports replaces the Dashboard feature in version 16.1 and greater.


Add tabs to keep data organized in your choice of structure.
Change the graph types to fit your data. Choose column, line, stacked column, or stacked area.
Customize chart/graph type and X/Y axis parameters.
Graph colors are determined by the associated provider's Operatory Color. The graph color is dark blue when no providers are chosen.
Use graphic reports in two ways:
Use default graphs to quickly view data for your practice, clinic, or providers. Default graphs will populate automatically in the Graphic Reports window if you have no existing graphical reports.
Create custom graphs with only the data you want to view.
Print Graphical Reports
Print or save the currently selected tab of graphs.
Click Print Page to open a print preview window.
Adjust the image size, margins, and image position, or keep the default values.
The Landscape checkbox determines the orientation. Uncheck to view portrait orientation.
Click Export to save the image as a PDF, or click Print.
Add Tabs to Graphic Reports
You can use tabs to create separate windows for graphic reports. Use the default graphs provided, or create custom graphs. Organize chart data by providers or clinics, by type of graph, or the structure of your choice. Each tab can have any number of reports. To access graphic reports, enable the Graphical Reports Permission.


In the main menu, click Reports, Graphic.

Click Setup. Changes can only be saved in setup mode. You must have the Graphical Setup permission.
Click Add Tab to begin creating report tabs, or click the Default Graphs button to automatically create default graphs for the practice. Options for default graphs are practice, clinic, and provider defaults.
Double click the tab to edit its name. Click the red X to delete the tab.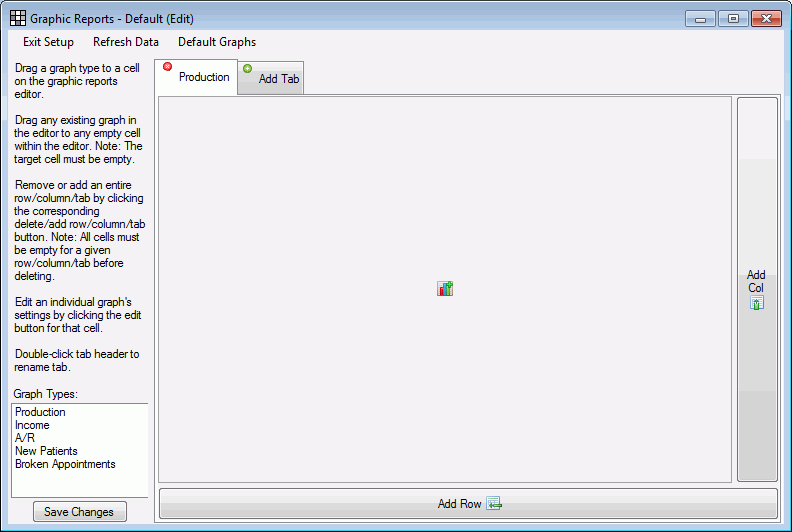 Add rows and/or columns to create more empty cells on the selected tab. Each cell can contain one graph.
Add Default Graphs
Use default graphs to automatically create a set of graphic reports by practice, clinic, or provider.
Click Default Graphs in the toolbar.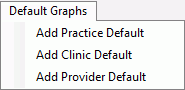 Click a default to automatically populate a series of graphs.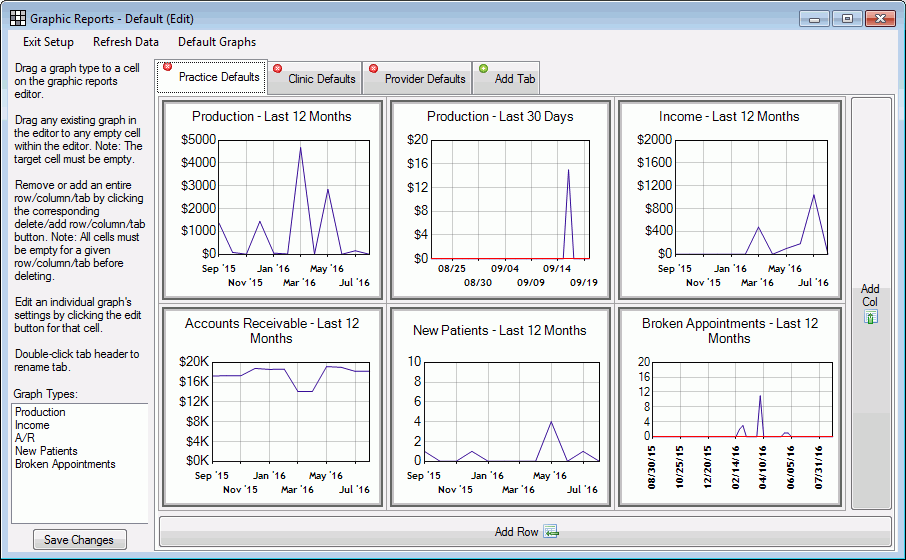 (Optional) Click Edit in each cell to edit the graph. See Customize Graphs, below.
Click Save Changes. The default graphs will show when graphic reports is opened.
Add Custom Graphs
Select a tab. Click an existing graph from Graph Types and drag it into an empty cell. See Graphic Report Types. The cell in the tab must be empty before adding a new graph.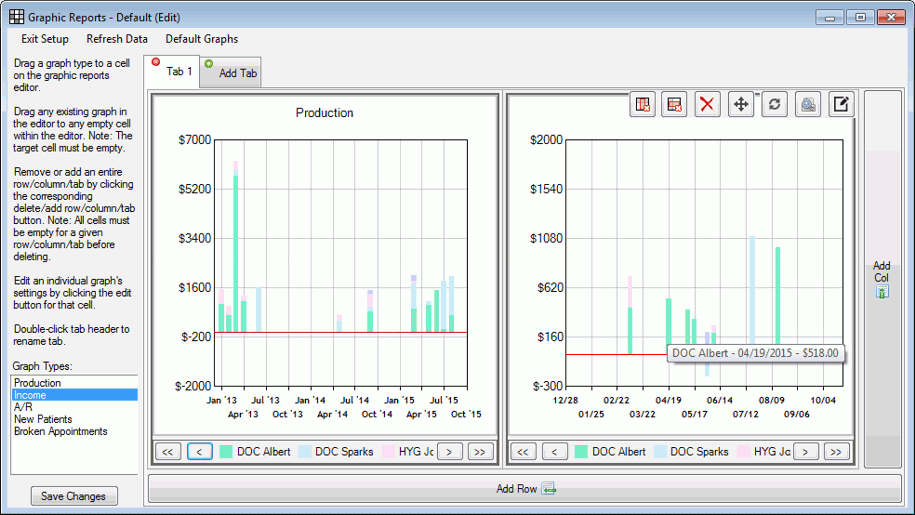 Time intervals display on the X axis of the graph. Quantity (money, count) displays on the Y axis. Hover over a column to display the exact amount.
Edit Cells
Hover over a cell to view options.
Delete column. Hover over this button to see which columns will be deleted. The column must contain no cells before it can be deleted.

Delete row. Hover over this button to see which rows will be deleted. The row must contain no cells before it can be deleted.

Delete a single cell's contents.

Drag/move to zoom in on a section of the graph. Click the drag/move button, then click and drag your pointer on the graph. Repeat to zoom in more. Use the scrollbar to move the graph. Click refresh to zoom out.

Refresh the chart data.

Print/Export. Click to open Print Settings. From here you can change the chart size, margins and chart position for printing. Printed and exported charts include the legend. Click export to save the report as a PDF outside of Open Dental.

Edit. Click to customize the chart.
Customize Graphs
You can customize graphs to fit the needs of your practice, including what data shows, the date ranges, graph types and more. Customization options vary based on report types. For all graph editing options, see Graphic Report Types.


Click the Edit button on a cell.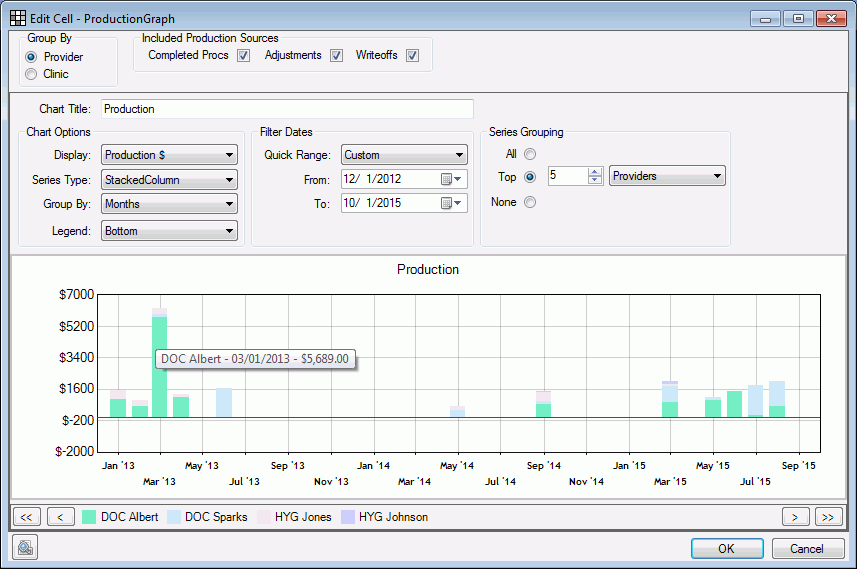 Choose what data should be included using the checkboxes at the top. Options will differ depending on the selected graph type.
Group By: Provider or Clinic. This will only show if Clinics are enabled. Note: Clinic color cannot be changed.
Choose display, series type, group by and legend options. These options are common to all graph types.
Chart Title: Edit the title that will show at the top of each graphic report when it is viewed, saved, or printed.
Display: Select a graph display option. This will show on the X axis as a quantity amount.

Series Type: Choose the way plotted data is displayed. Options are Stacked Area, Stacked Column, Column, and Line.

Group By: Choose a time interval for the Y axis in days, weeks, months, or years. Select a grouping that is a smaller interval than the chosen date range. For example, group by weeks and set the date range to month. Some graphs cannot use all groupings.

Legend: Pick an orientation for the legend, or select none to disable. Click a legend item to hide it from the chart and printed/exported versions. Click again to unhide.

Use Quick Range to choose a preset date range for the graph, or use the calendar dropdowns for custom dates.

Select a grouping option for the data. If grouping by provider, data is displayed in provider colors.

All: All data is displayed separately in the graph.

Top: Choose the top number (of providers, for instance) to display separately in the graph.
None: All data will be displayed and ungrouped. The default color for none cannot be changed.
(Optional) Click the print/export button to open Print Settings and print or export.
Click OK.
When you are done adding and editing charts, click Save Changes, then Exit Setup.