Using Rx Manage, prescribe and manage a paper prescriptions for the selected patient and/or print more than one Rx / Prescription per page.
In the Chart Module toolbar, click the New Rx drop down, Rx Manage.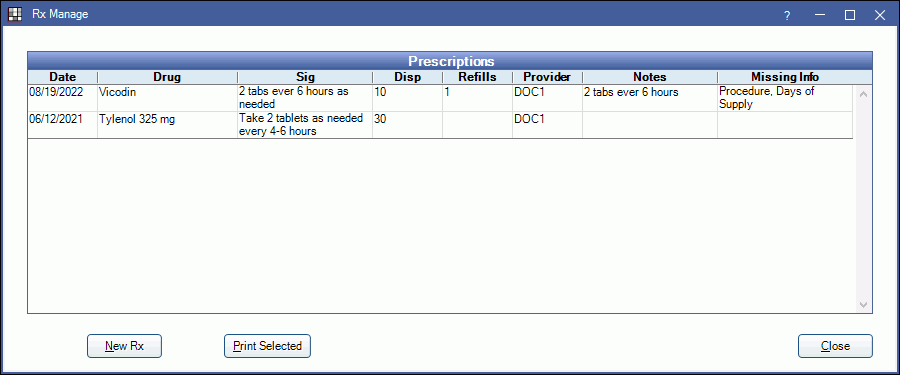 Setup:
Rx / Prescriptions List: Create templates for common prescriptions and set up drug interaction alerts based on allergies, medications, and/or problems.
Rx Multiple Layout: Customize the print layout when printing multiple prescriptions per page.
All of the patient's prescriptions that already exist will show. To edit a prescription, double click on it.
To add a new prescription, click New Rx. See Rx / Prescription for step by step instructions.
Select the prescriptions you want to print. Click and drag, or press Ctrl while clicking to select multiple.
Click Print Selected. The prescriptions will print to the default printer for RxMulti (see Printer Setup), using the custom RxMulti sheet listed first in Sheet Setup (or the internal sheet if no custom sheet exists).
Prescriptions are not previewed before printing, thus they cannot be digitally signed before printing.
Below is an example of the print layout for the internal RxMulti sheet. It can print up to four prescriptions on one page. Note that the Generic Substitution Permitted check box in the internal sheet is always checked. To remove the check mark, customize the sheet.