Set up a recurring payment to a patient's credit/debit card or checking/savings account for regularly due charges (e.g. payment plans, repeating charges).
In the Account Module, Main tab, click Credit Card Manage, double-click a payment account.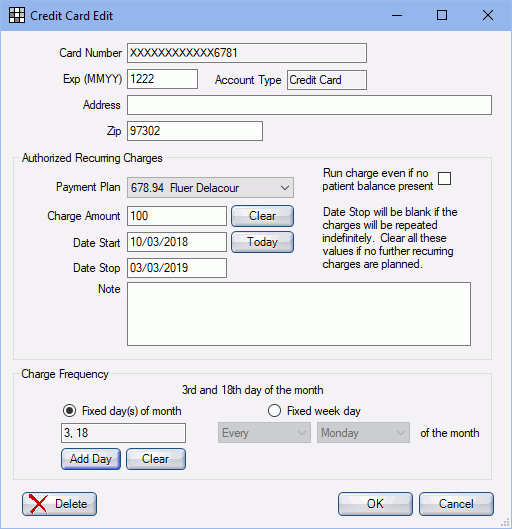 Authorize the recurring charge amount and frequency for select patients. On the scheduled payment date, if the patient has a balance, they will be added to the Recurring Charges tool ready to be processed. Run the tool manually to process the payments or set payments to process automatically at a specific time each day. To run the tool and for set up requirements, see CC Recurring Charges.
To set up a recurring payment:
Enter the Authorize Recurring Charges details.
Payment Plan: (optional) Attach the recurring charge to a Payment Plan. Use the dropdown to select from a list of plans the patient is a guarantor of. The payment will be applied to the payment plan (Payment to a Payment Plan). If no payment plan is selected, a payment will be processed for the patient's balance up to the charge amount entered.
Charge Amount: (required) Enter the scheduled payment amount. For payment plans, this is typically the same as the pay plan debit amount. To remove the amount, click Clear.
Date Start: (required) Enter the date the recurring charge is scheduled to start. Click Today to insert today's date.
Date Stop: Enter the final payment date. To charge the patient indefinitely, leave blank. The patient will then be charged for any outstanding balance due up to the authorized charge amount. If a payment plan is selected, the recurring charge will automatically end when the payment plan is paid in full.
Note: Enter notes specific to the charge. Notes are only visible in this window.
Select a Charge Frequency.
Fixed day(s) of month: (default) Click Add Day to select one or more days of the month to schedule the payment. The payment will be processed on the day(s) indicated, with the first charge scheduled the month entered in the Date Start field and the last payment in the month entered in the Date End field (i.e. 10/03, 10/18, 11/03, 11/18, etc. with the final payment on 03/03/2019 for the example above). Click Clear to remove the selection(s).
Fixed week day: Check to select a fixed week day to schedule the payment. Use the dropdown menu to select which day of the week and how often (e.g. every Monday or fifth Saturday).
Click OK to save.
To exit the Credit Card Edit window without saving changes, click Cancel. To remove the payment information from the patient's account, click Delete.