Payment Plan printouts can be customized to meet the needs of the practice.
In Sheets, double-click on a custom sheet with the type of PaymentPlan.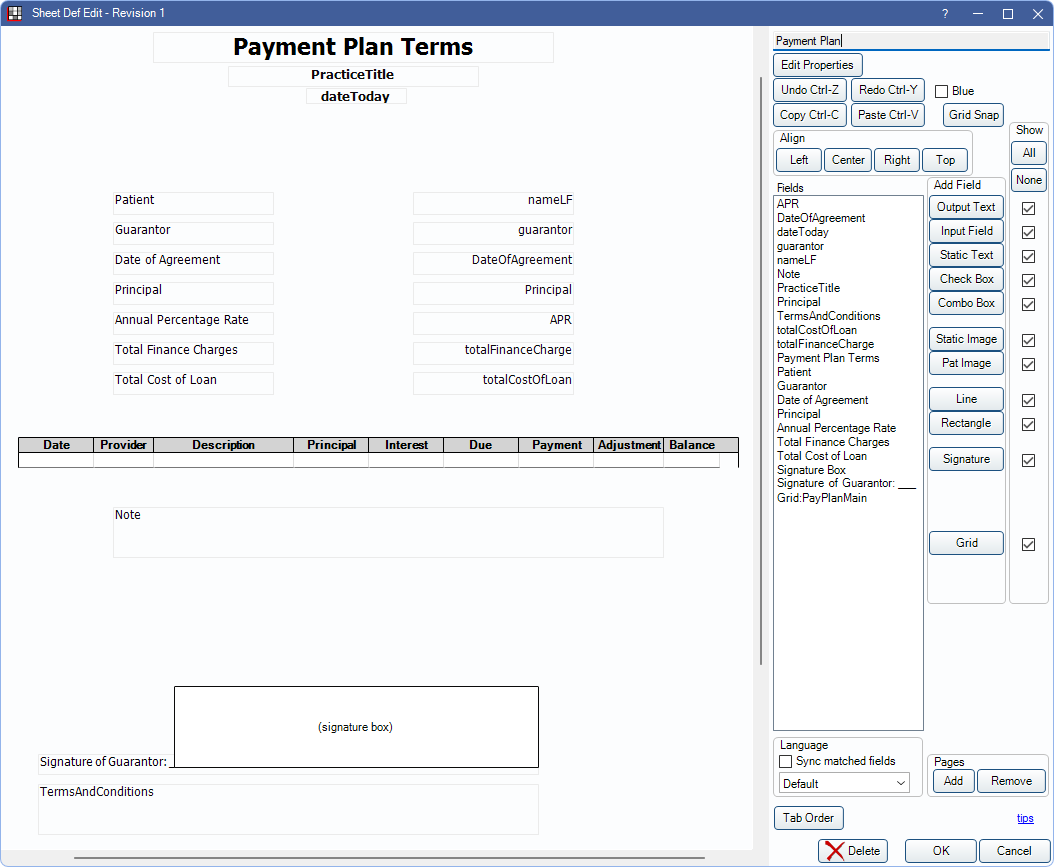 Alternatively, in Sheets:
Click New and choose PaymentPlan as the Sheet Type to create a new Payment Plan sheet from blank.
Select an existing Custom PaymentPlan sheet and click Duplicate to create a copy of an existing Payment Plan sheet.
Select the existing Internal PaymentPlan sheet and click Copy to create a copy of the default Payment Plan sheet that can be edited.
Also see: Sheet Def Properties and Sheet Field Types.
Enable the Preference
Enable the Preference Pay Plans use Sheets for printing.
With this preference enabled, when printing a payment plan from the account module, if no custom sheet has been created, then the internal sheet is used. If multiple custom PaymentPlan sheets exist, the top-most (i.e., first alphabetically) sheet will be used when printing.
Customizing a Payment Plan Sheet
To customize a Payment Plan sheet type, see Edit Sheet Def.
The layout of printed Payment Plan terms (Sign and Print Payment Plan) can be customized by setting up a sheet with a PaymentPlan type. If enabled, the same custom sheet is used for all printed payment plans.
Additional information:
There is one grid, PayPlanGrid, that is only available for sheets with a PaymentPlan type. The columns in the grid are fixed and cannot be changed. See Sheet Grid.
An electronic signature box can be added to a payment plan sheet. If added, a preview window will display before printing so the plan can be signed. See Sheet Signature Box.
Printed and saved custom payment plan notes are saved as PDFs in the Imaging Module. To set the folder these payment plans are saved in, see Definitions: Image Categories.