Electronic Payer IDs are used to submit electronic claims to carriers.
In the Main Menu, click Setup, Family/Insurance, Payer IDs.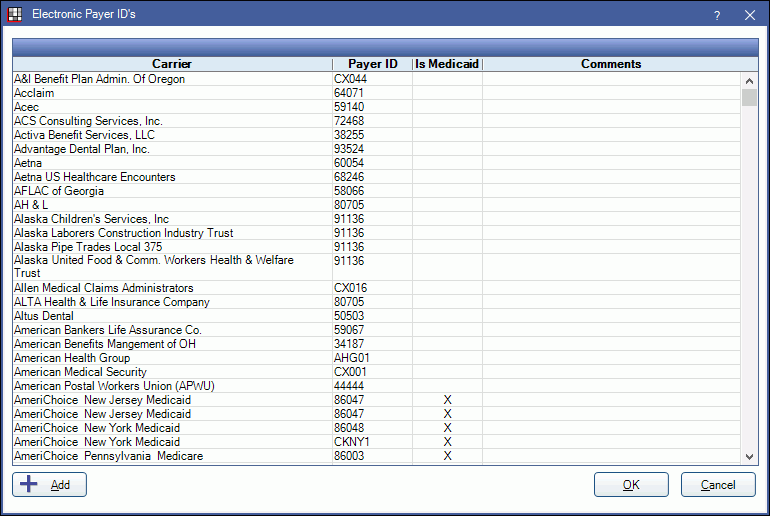 Alternatively, in an Insurance Plan click Search IDs.
Payer IDs are assigned to the insurance carrier. Adding an ID directly to a carrier from the Edit Insurance Plan window or Carriers window does not add the ID to this list.
This list is provided as a courtesy but is not extensive. IDs can be edited or added as needed. Always verify that the electronic payer ID for a carrier is correct. If the wrong ID is used, it may require claims to be resubmitted at an additional expense.
To add a new electronic payer ID, click Add or double-click an ID to edit.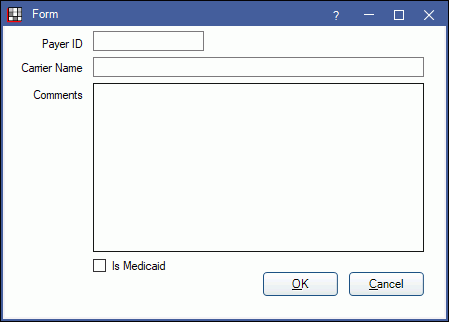 Payer ID: Enter the Payer ID.
Carrier Name: Enter the carrier name.
Comments: Optional. Enter any comments about this ID.
Is Medicaid: Check this box for Medicaid carriers.
Click OK to save.