Use the PayConnect Payment window to take payments, add new cards, void a transaction, or process a return.
In the Credit Card Payment window, click PayConnect.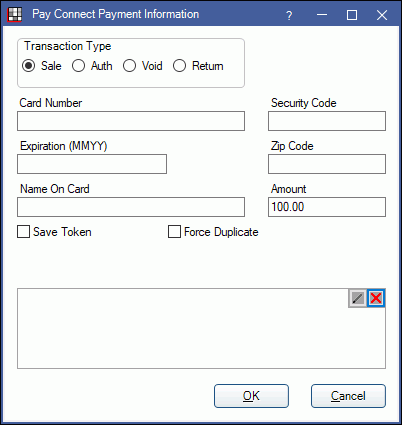 Alternatively, when finalizing an insurance payment, in the Edit Insurance Payment window, click PayConnect.
PayConnect is an integrated Credit Card Payment program that can be used to process credit and debit card transactions.
Website: http://www.dentalxchange.com. Only available to U.S. customers.
Field Descriptions
Transaction Type:
Card Number: Place the cursor in the field then swipe the credit card, or type the credit card number.
Security Code: Enter the security code from the back of the credit card. When the card is swiped the security code will auto-populate.
Expiration (MMYY): Enter the credit card expiration date. When the card is swiped the expiration date will auto-populate.
Zip Code: Enter the zipcode of the cardholder's billing address. When the card is swiped the zip code will auto-populate. When using a card on file, the zip code stored in Credit Card Manage auto-populates this field.
Name On Card: Auto-populates with the selected patient's name, or, when the card is swiped, the cardholder's name.
Amount: The purchase amount entered in the payment window. To edit, cancel the transaction and enter the correct amount in the payment window.
Save Token: Securely store the credit card number and expiration date as a token for future use. When the Default Processing Method is set to Web Service, the Preference, Automatically store credit card tokens can be set. When the Default Processing Method is set to Terminal, tokens can only be saved from Credit Card Manage.
Force Duplicate: Determines if a transaction on the same card, for the same amount, on the same day may be approved. Check to allow a duplicate transaction, uncheck to decline duplicates. Set the default in PayConnect Setup.
Signature Box: Patient may sign the transaction (optional) and the signature will be stored with PayConnect. See Electronic Signatures for signature capture options.
EMV Transactions
Credit cards with computer chips (EMV transactions) are supported for PayConnect but credit card tokens will not be saved for these transactions. Use a compatible credit card terminal and install the terminal drivers (see PayConnect Setup to install drivers). Terminal options include:
Verifone VX520
Verifone VX805 (Only works with VX520 as a peripheral pin pad device, cannot work by itself)
Troubleshooting
When processing a payment on a terminal through Open Dental:
The payment window will include an option for Terminal. Ensure Terminal is selected for payments.
The terminal screen will display DentalXChange Welcome. Press F4 to ensure the terminal is in DentalXChange mode.