Use the Menu to view reports, search pharmacies, change settings, view images, switch the clinic or user, or log out.
In ODMobile, tap More Options.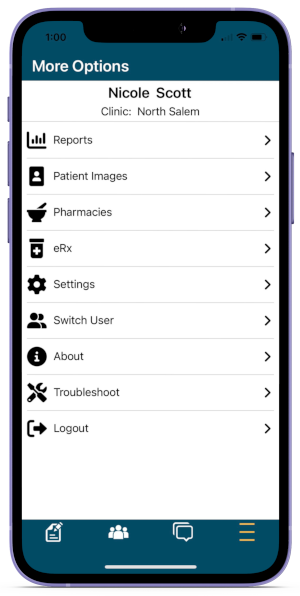 Reports
See ODMobile Reports for report options and instructions.
Patient Images
View patient images from the Imaging Module. First tap, then search by patient name.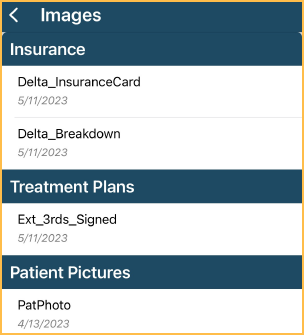 Only Image Categories, not marked Hidden, with images for the selected patient are listed. Tap an image description to view it.
Pharmacies
View Pharmacies entered in Open Dental.
Show for all clinics: Check to show pharmacies available for all clinics. Uncheck to only show pharmacies associated with the logged-in user's assigned clinic(s).
Tap a pharmacy to view contact details.

Tap the pin icon to view the pharmacy location in Google Maps.
eRx
Tap to view DoseSpot eRx / Prescription.
Settings
See ODMobile Settings for details.
Switch Clinic
If multiple Clinics are signed up for ODMobile, tap to switch to a different clinic. Select the clinic from the list.
Switch User
If using a shared device, tap to switch the logged-in Open Dental user. Logs off the currently logged on user.
About
The About section displays miscellaneous information.
Troubleshoot
This runs a test to verify Push Notifications are being received to the device.
Logout
Tap to log out of the app. Returns to the Signup Portal Login screen. Users are required to enter office credentials before entering their user login.